Word Up!
By Todd R. Nelson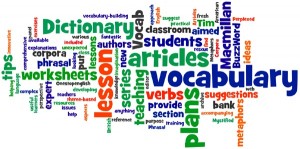 "One good word is worth a thousand pictures." —Eric Sevareid
My twelfth grade English teacher, Mr. Walker, made us learn twenty-five vocabulary words per week. There was a quiz each Friday, on which he would select ten words from the twenty-five. The end-of-term test was a doozie. But it's not about the tests.
Even though that was a long time ago in teacher years, and pre-history in child years, I can still envision the lists and quizzes and all kinds of late night thumbing of the dictionary. Mandarin, caucus, Walpurgisnacht, dialectic, palette and palate, moot, pique, and troika were words I heard for the first time in his class and still—oddly—remember. The weekly words came from assigned novels and stories or magazine articles (What the heck were we reading?), and many had multiple definitions. Mostly I remember being inducted into the discipline and peculiar joy of acquiring interesting words. For some classmates it was a chore, but we all took Mr. Walker's justification at face value: that knowing lots of words and putting them to use is virtuous and powerful.

And more: it leads to understanding. We live in an age of shrinking vocabularies and economy of speech as a virtue. Certainly we think as hard as ever about how to make language zing, entice, move our emotions, and influence our decisions. But the prevalent bursts of meaning get shorter and shorter. E-mail or Twitter convention favors brevity; instant messaging is just that; text messaging has its own nano-spelling rules and semantics. Fewer words means fewer ideas, fewer nuances, fewer colors, and fewer shadings of meaning, which means less and less accurate or precise communications. Word choice is an expression of intention. Less is not, like, more.
The son of a journalist takes this on faith, but the importance of vocabulary building and language in action has been in the news recently to explain intellectual development and scholastic efficacy. Acquiring words is directly related to intellectual development, according to scholars. In The New York Times Magazine, an article about school reform cited a 1995 University of Kansas study by Hart and Risley that found a close correlation between I.Q. and the size of vocabulary. Children who heard more words in use had higher I.Qs. And those larger vocabularies correlated closely "to one simple factor: the number of words the parents spoke to the child… anything from a one-word command to a full soliloquy." We're not talking the ability to use Walpurgisnacht in a sentence, here—just frequency and length of talk.

Next point in the article? Content and tone: keep it positive. "As conversation moved beyond simple instructions," Hart and Risley observed, "it blossomed into discussions of the past and future, of feelings, of abstractions, of the way one thing causes another — all of which stimulated intellectual development." Putting it succinctly, "hearing fewer words, and a lot of prohibitions and discouragements, had a negative effect on I.Q.; hearing lots of words, and more affirmations and complex sentences, had a positive effect on I.Q."
If I am not mistaken, the research goes to the heart of the value of discussion, dialogue, and feedback, giving directions, explaining and listening to explanations—the effect on intellect of simply acquiring and using lots of words. And the research affirms the importance of hearing "you're doing good!" Though the Kansas study looked at language and praise in the context of families, let's extrapolate the benefits to school.
Discussion may seem like a process-intensive, slow route to understanding, but this language-based approach is developing vocabulary, urging mindful word choice, gauging audience and register, encouraging students to measure ideas and their expression in a way that develops intellectual efficacy. It's good practice, like playing scales and exercises on an instrument on the path to improvisation. I'll never say, "Get to the point" again without consid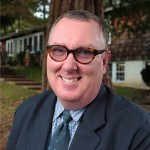 ering that using all those words is the point. Talk it up. And thanks, Mr. Walker. Even though I don't get to use Walpurgisnacht very often…I'm glad to know it's in my vocabulary palette, especially on Halloween.
Todd R. Nelson is Head of School at The School in Rose Valley, Pennsylvania.