Tiger Mother, David Brooks, Mud and Snow
By Todd R. Nelson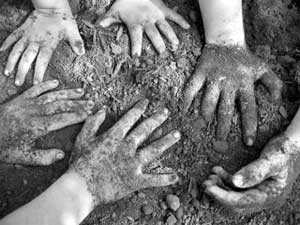 Mud, Glorious Mud
The Anthem of the Progressive Dad?
At my little school we love our mud and snow. It is the spectacular raw material of some very significant daily experimenting and learning. It's a standard and benchmark in the Uber curriculum. Mud and snow are practically special subject all their own, the coin of play, engineering, even commerce.  They inspire public works projects, nature tracking, and just plain squelchy, sticky pleasure. They too are building blocks, from pre-school through sixth grade.
One of the curious things about the subject is that mud and snow cannot be enjoyed alone. They invite collaboration and group problem solving. Witness any number of gatherings among our forest-verge tribes during outdoor time: they huddle around a bucket, or apply mud plasters to sticks and branches, or stir murky puddles in the ground. Ingredients are added, techniques discussed and compared, elaborate prescriptions and narratives adhered to the soup or potion at hand. There is always a cohort around mud. It's hard work, a life-long study, getting mud just right.
Similar activities started happening with snow one week in early February, out on the field. An instant sculpture gallery appeared with figurines of all sizes, produced by artist teams of all sizes. Henry Moore and Fernando Botero would have been inspired. There was even a very Giacometti-looking cat with a sinuous tail and mischievous grin.  On the rainy day, a puddle formed, and then froze. The next day there was a floe of first and second graders, like so many seals, scraping away the snow to make smooth ice, just for the sheer pleasure of a few square feet of sliding space.
The next night a light, but sticky, snowfall; epic boulders appeared like some glacial erratic Snowhenge. In either case—art or fortifications (why do we always make snow forts, and not just houses?)—the work was some of the most intense, collaborative, and thoroughly negotiated effort to be found in an elementary school. And the kids did it all by themselves.
I wondered if New York Times columnist David Brooks might have appreciated this tapestry of work-by-play. School is a place for skills and work and self-expression, and they are wonderfully, exuberantly manifested in myriad ways in impromptu sculpture galleries and forts. We should not shy away from emphasizing the value of these humbler expressions.
One of Brooks's paragraphs is now, perhaps, a famous rebuttal to the Battle Hymn of the Tiger Mother brouhaha: "Practicing a piece of music for four hours requires focused attention, but it is nowhere near as cognitively demanding as a sleepover with 14-year-old girls," Brooks writes, provocatively. "Managing status rivalries, negotiating group dynamics, understanding social norms, navigating the distinction between self and group—these and other social tests impose cognitive demands that blow away any intense tutoring session or a class at Yale."
We knew this. We see it in our woods economies and elaborate stick structure building. Determining the value of shiny mica rock pieces, or of branches of a certain length, is Ivy-league graduate seminar fodder to be sure. This might also be called the social curriculum. One special part of Brooks's column caught my attention.
"Most people work in groups," he writes. "We do this because groups are much more efficient at solving problems than individuals (swimmers are often motivated to have their best times as part of relay teams, not in individual events). Moreover, the performance of a group does not correlate well with the average I.Q. of the group or even with the I.Q.'s of the smartest members.
"Researchers at the Massachusetts Institute of Technology and Carnegie Mellon have found that groups have a high collective intelligence when members of a group are good at reading each others' emotions—when they take turns speaking, when the inputs from each member are managed fluidly, when they detect each others' inclinations and strengths."
How often we focus exclusively on individual intelligence, though so much of our effort and achievement deserves attribution to the wisdom of the group! Our corporate experience too is the measure of our intelligence, of our kindness, civility, tolerance and happiness. What if teachers wrote progress reports about the group achievement— a kind of annual report to the shareholders? Working in groups is the subject, and the product, in an elementary school.
The social experiences of kids can get muddy. We are all messy when we forget our manners! Groups can certainly create problems for themselves. But manners and success can only be learned this way. And it is the intelligence and strength of the group that we hope we see reasserting itself when the waters of relationships are muddied. It's worth it. The result is greater than the sum of the first-second grader ice floe parts.
Brooks calls these labors "the truly arduous tests of childhood." In these scenes, kids "learn how to detect their own shortcomings…how to put themselves in others' minds and anticipate others' reactions."
The Snowhenge could not have been erected by a solo artisan. Or if it were, with whom would he or she stand back and admire the accomplishment? In all aspects of our schooling, we weave better material when we acknowledge the individual and the group as the fundamental warp and weft of learning—and life.  Only a few more days until Spring begins officially, and the world is "mudluscious" once more.
Todd R. Nelson is Head of School at The School in Rose Valley (Pennsylvania).