Testing a String Theory – PBL Inspired by Steve Erkel's Time Machine
By Todd R. Nelson
Testing a String Theory
To Eaton's Boatyard…and beyond!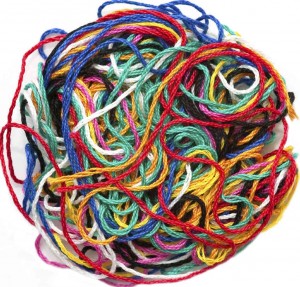 Joey Spinazola had been saving string—a lot of string. He started in the summer when a character from his favorite television program, Family Matters, gave him an idea. "Steve Erkel invented a time machine, and something went wrong with it. The insides looked like a huge ball of string. I thought, 'That would be cool to make.'"
Joey started winding yarn procured from his sisters, and eventually one of his father's t-shirts (cut into strips), until he had created the basketball-size, tightly wound, "magical ball of fame." It came to school and had been sitting in his cubby since October. And then on Monday, it seemed like a good time to determine just how much string it contained. "I think it might reach all the way to Eaton's Boatyard," Joey said. "Maybe to the water." Anything farther than that would exceed expectations and be a triumph. A local string theory had been born, and it required testing.
It's probably possible to estimate the length of the MBF through a few simple equations using the diameter of the string ball and the varying thickness of the string and yarn wound around it, to know if it would go the distance to Eaton's—or anywhere else in town. But when it's a sunny, warm day in November—a gift, here in Maine, before winter's onset—and there's a cohort of willing scientists, a gravitational pull down hill towards the harbor, and still fifteen minutes before the recess bell rings and classes resume, a physical test of theories is irresistible. And a test would achieve an exact determination, not just an estimate.
With a nod to his physicist forebears and the help of Brianne sitting on the school steps and holding fast to the bitter end, Joey took the ball and gave it a big kick, sending it rolling towards the library.
Theory number one: a humongous string ball given a kick on a slope will keep on rolling until acted upon by another force. Or, as Newton wrote, "A body persists in a state of rest or of uniform motion unless acted upon by an external force." False. Joey's ball rolled exactly three maple trees down School Street and then stopped. It needed another application of external force (a second kick). But there was no apparent force acting upon it that would explain why it didn't stay in motion. Inertia and entropy are hard to see. Clearly, one of two things was going on: this ball simply did not wish to be unwound, or the second law of Spinazola String Theory is in effect: It is the Anti-winding Force. This has sometimes been called the silent force, which physicists have struggled to decipher for years. It explains everything from the unraveling of sweaters (PRP: Perl Retrograde Phenomenon) to fishing knot intransigence (LTE: Line Torpor Effect).
Joey persuaded the MBF to keep moving. It did. When it reached the bottom of Green Street, and even turned the corner, the whole cohort was elated.
Theory number two: a humongous string ball comprised of several different weights of string will roll at a different rate for each weight. I.e. cotton fabric "string" will roll faster than fluffy pink yarn. Or, as Newton put it, "Force equals mass times acceleration (F = ma): the net force on an object is equal to the mass of the object multiplied by its acceleration." This is false, according to Spinazola String Theory. It makes no difference who is throwing or kicking, or which gauge of string is coming off the ball, a string ball will take its own sweet time, going up hill or down—it makes no difference. MBFs have a mind all their own.
Theory number three: Joey's ball will be large enough to reach Eaton's before running out. True. Joey's ball was more than large enough to reach Eaton's. In fact, it was more than large enough to turn the corner at the Variety store and keep on going, as proprietress Elizabeth and customer Harry Kaiserian are our witnesses. The string ball, after pausing on the steps of the Variety for a documentary photo, kept right on going—past the bookstore, gallery, Saltmeadow Properties, and The Water Witch.
On Wednesday, Joey ruminated on the best and worst part of the experience. "Nice walk! Having other kids unroll it was nice," he said. "Tangles were annoying. And I thought it would go faster. The knots slowed it down; made it bounce too much."
And so to the Annals of Science we have added a new test of velocity, acceleration, mass and propulsion: the MBF. And to feet, yards, meters, astronomical units, leagues, fathoms, hectares, cubits and spans we add The Magical Ball of Fame, a unit of measurement to be forever defined as the distance from the school front stairs to the northwest edge of the white building just uphill from the old Saltmeadow building, clockwise, via Green, Water, and Main Streets.  Joey figures it's also the equivalent of one circumference of the local football field (OCLFF). But it's easier to just say, "It's about one MBF from here." It's sure to catch on. Check Wikipedia.
About Todd Nelson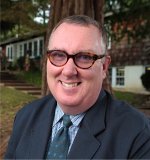 Todd R. Nelson is a writer and educator in Penobscot, Maine. His 35-year teaching career across the U.S., observations of rural life in Maine, and parenting the three Nelson children are the subjects of his many books of essays. His wife, Lesley Brody Nelson, a textile artist and painter, illustrated the book covers.
Todd R. Nelson is principal of Brooksville Elementary School in Maine and has authored many books.
Todd's books are available here.