Second Grade Island – Where Children Are Allowed To Inhabit Their School And Learning
By Todd R. Nelson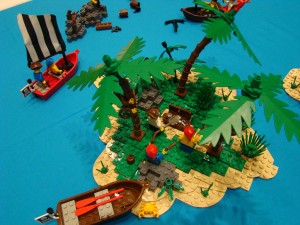 Though this happened a long time ago, the recollections of my visit to Second Grade Island are as fresh as if it were yesterday….
Here on the jungle floor, under the canopy of towering Rotini trees, where the dappled light of the midday sun trickles down to the small birds and animals that thrive on this unique tropical atoll live the people of Second Grade Island. They are apparently its first inhabitants, for there is no sign that anyone has ever lived here before—except for a sunken ship deep in the lagoon.
"Pirates," says one of the tribal elders. "Bones there too, and squid and octopus. We dived down to explore the wreck and look for treasure. We found a map in a drawer in the captain's cabin. Even though we dried it out for a day, we still can't read it. The paper has black spots on it."
How does one find this island, you ask? Row in a boat? What chart will we need to locate it? What provisions and tools? Let us go and make our visit.
"We came in a raft," said another elder of this friendly little tribe of islanders. "It was 57,000 miles from the mainland, and it took a year to get here."
"Or four hours by motorboat," added another.
"We've been here for five years," they said, "and found it deserted…except for the animals."
"Yeah! There are lions, tigers, leopards, cheetahs, sea turtles (lots), and seals." Big animals! Ferocious animals! Carnivores! We asked if there were smaller critters, which might prefer vegetables for their dinner.
"There's a baby jaguar, monkeys, snakes, fish, lizards, koalas," they said. "None were tamed, but they became our friends."
Descriptions of the size of this fantastic island vary from fifty inches to one mile to fifty-eight miles.
How did Charles Darwin miss this as he sailed the seas on the Beagle, and would his Origin of the Species read differently if he had had to account for the splendor and variety of SGI wild life? In the name of science, we shifted to an anthropological line of questions.
"We speak a special language," the islanders told us, "and it has never been recorded or written down." Every language has a form of "hello," and theirs is tokrgkjy. Good-bye? They say, jgykylpwxzy. The pronunciation is difficult to describe, the transliteration cannot do it justice. But it has some of the twitter of tropical songbirds punctuated by glottal clucks and pops.
When the islanders speak among themselves, you would think a quartet of thrushes at evensong were arguing over nesting rights. They do have a favorite word: animals, or twagalaga.
The diet of the islanders is rich and varied, no surprise given the lush forests they live in, not far from the sand dunes and protected coves of the shoreline.
"We're fond of bananas, peaches, coconuts, crab cakes, squid, angle worms, and chocolate grasshoppers," they told us. They also spoke of roasting twigs and bugs to eat. "They taste like asparagus, once you get used to them."
The sun was setting and we could hear the waves receding down the sand. "Does it get cold here at night?" we asked the islanders?
"Yes. We make blankets out of weeds," they said. "We have a tiny sewing kit from Maine. We can also sew leaves into tents and blankets. We make our own clothes."
"That's why I look like this," said one of the elders, lifting her leg. "I made sneakers." They wear their trousers rolled.
They continued to offer information about their handwork. "We make a lot of rafts to fit all of us. We want to bring all the animals back with us in a boat. A humungous boat," they said.
Aside from making the necessities of island life, the SG islanders seem to