Into the Woods: Kindergarten Play a Reminder that Every Day of School is an Epic Journey
By Todd R. Nelson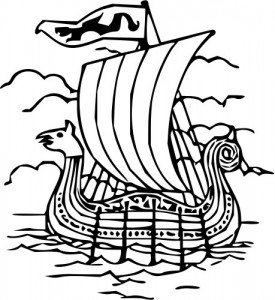 An epic journey requires a wise old man or woman, an innocent and earnest young man or woman seeking their fortune, a dark forest, a turtle, a hawk, and a Beloved One. And don't leave home in search of a beloved wife or husband without The Golden Key–or is that The Golden "E?"—for it is already a road fraught with dangers…and possibilities. Any profitable journey involves encounters with Wild Things. Sirens will beckon. The road will be long and the directions often cryptic. However, love and a warm hearth always spur the traveler onward.
The recent performance of an epic journey story by the students in Kindergarten was a case in point. I was fortunate to obtain front row seats for opening night and can now share the highlights. It is a lesson in dramatic play, emotional and literary fluency, and maximum use of the dress up corner. See what you think. Perhaps you too know this show.
Once upon a time, an old man with a Viking helmet said to the young prince: "What are you doing in my woods." It was clear he was a prince, because he was wearing his crown, even while traveling.  In some versions of the story, it is a shape-shifting old woman wearing a veil and muck boots, often mistaken for a kindergarten teacher.
"I'm in search of a wife," said the prince. "I heard the voice of a wonderful girl and I've fallen in love." She is, of course, locked up in a tower and the prince must find the golden key to free her and claim her for his own. And so the journey and its trials begin.
"Go that way," said the old man/woman/kindergarten teacher. Old people know the way without having to think twice, and they are usually very tolerant and patient with young men who travel this route for the first time. They know that young men named Kevin, or Devon, might just be princes. Furthermore, they definitely have a way of turning into old men, if they play their cards right, who are needed to give directions to the next generation of young men.  Epics beget epics; sustainability is vital.
"You must cross a great, wide river, and pass through a deep dark forest, to the meadow where you'll find the golden key," said the wise old kinder-person. "Farewell, and good luck."
Easing on down the road, our prince seeks to ford the river—and there is always a river in this motif, Oh Best Beloved. (Some times it is even a great, grey-green, greasy river, all set about with fever trees. Not today). He benefits from the aid of a turtle, who allows him to step on his back and pass safely and dryly to the far bank, though he complains of the weight of our princely pilgrim. "That pains me," said the turtle. The animal world is sympathetic to the search for a wife, evidently.  Turtles especially know how long a trip it can be.
Not all animals are as aware of their designated role.  The hawk asks, "What am I doing in this play." Character motivation can be so perplexing in even the greatest drama; good agents are hard to find. Kevin looked like a good morsel, though, and the hawk swooped down and latched on with his talons, saying, "I'll feed you to my young."
Prince Kevin doesn't miss a beat.  "If you let me go, I'll show you where fish are living in the river." It works. It always works. If you give a hawk a fish you feed it for a day; give it directions to the trout pool in the turtle's river, and it eats for a lifetime. Sustainability.
And then there are the tricky girls. In this version, they ply our hero with "fresh chicken and water." It's too much to resist. But too much drink leads to too much sleep and the journey is interrupted and potentially thwarted.
The thing about stories with such archetypes is that they need no explanation. They are already written in our hearts. We are all in love with the beautiful voice calling us. We all tread the banks of rivers looking for a way across. We are all spooked by the woods, tantalized by the sirens, and joyous when we discover the golden key. It is how we reassure ourselves that even an unfair, random world will respond to our individual perseverance and heroism. As poet Richard Wilbur wrote, "How much we are the woods we wander in." And we are the journey.
When Kevin wakes from his chicken and water slumbers, he is victorious, as we expected. Our hero finds the golden key and approaches the tall tower and hears the line that every journeyer wants to hear on their arrival or return to home or hearth—a princess saying, "Welcome. I've been waiting for you."  To which he replies, romantically: "Let's go," followed by, "Taxi!" Down swoops the now-friendly eagle to whisk them away.
That's as good an ending as it gets—unless it's the voice of Mrs. Thomas on the intercom calling all the actors to return from where the wild things are and come to the kitchen for their lunch while it's "still hot."
Every day of school is also an epic journey, and "All's well that ends well" when you have the golden key, a worthwhile goal in mind, and the support of kind mentors and kindred souls.