Reflections On a Week Without Laptops Or, The Phantom of the Laptop
By Todd R. Nelson
"We Twitter, therefore we are." —Tweet by "Descartes"
"Last week," wrote a seventh grader in the Phantom Laptop essay assignment, "our laptops were abducted by aliens and the school stopped." It was the day the earth stood still. Another seventh grader wrote, "I don't know how people in the early days did without laptops. I tried it for one week—it was torture." They were writing about what they had detected in their own behavior during last week's laptop turn-off experiment. This has replaced the former, staid, TV Turn-off Week. Television is so last century.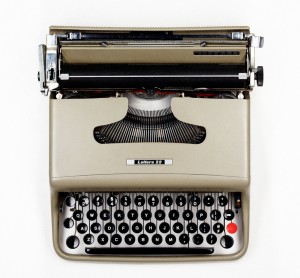 I'm not sure what the student meant by "the early days." In my early days, a "laptop" was an Olivetti portable typewriter. Suffice to say that each generation has its own technology bracket, and those brackets are constantly creeping, getting smaller and changing faster as the speed of innovation increases. To a contemporary 7th or 8th grader, the "early days" would be third grade, a bracket that encompasses the onset of, for instance, Twitter, Snapchat, Instagram, and others, and the rise of Face Book, the geezer app.
Prior to the big turn-off, we prepared to collect data by characterizing our laptop use as machine-based and web-based functions: publishing, spelling and grammar checking, photos, music, etc. v. Google searches, e-mail, texting, and other communications. On the machine side we found that "Looking up words in a real dictionary seemed a bit like finding a needle in a haystack after your needle-hay separating machine breaks." On the Web side: how do you answer a question without Google? And in a related connection to both sides: "Mr. Nelson wrote on the blackboard more." Blackboards are so previous to last century technology, I thought. A geezer app to be sure.
Yes, my own laptop turn-off week started poorly, as I tried to use the blackboard: "There's no chalk!" And I was out of practice, having grown accustomed to the mirroring software that allows me to type into a shared, online notebook. Nor was my typing on the old Royal machine of my digital apprenticeship much better, when I tried to Xerox vocabulary sheets. Paper copies? Old School. But it had a pleasant, percussive retro-sound, a soothing staccato that, for people of a certain age, provided flashbacks to their "early days." Could the perfume of those mimeo sheets be far behind in my random access memory?
There were a few ancillary discoveries as well. Thinking about our digital revolution at school brought up this question: How much paper have we saved since the school's weekly newsletter went e-mail and web-based? It's a good math problem, and the seventh graders totted it up swiftly: about 60 reams of paper over four years. That's a lot of trees saved. Then we considered the financial ramifications of our new digital lifestyles. "Have a discussion at home," I urged the 7th and 8th graders, "about the additional annual costs of the latest digital devices since the onset of cell phones, web access, satellite communications, etc. We did the math for the Nelson household. Astounding. There's the cost in dollars, and then there's the cost in altered behavior; of always being in touch, constantly updating ourselves…the Twitter phenomenon, which extends beyond the laptop. Even when the laptop isn't there, it's there. It's the preoccupation/isolation/distraction phenomenon.
I confess, this is where my own habits and digital adaptations collided with LTW. Without the laptop's magnetism, time slows down. Things take longer. Communications stretch out, enjoying a different kind of space allowed for them. There is more elasticity and flow, as the taut line of syntax favored by e-mail yields to more languorous use of commas to venture farther a field. Thinking takes on a different rhythm, until the leash of my own OCE—obsessive-compulsive e-mail checking—tugs me back into the yard. Must see if anyone's been in touch. Must be in touch. Must connect. Without laptops, one of the students wrote, "…we'd have to learn to stop multi-tasking." Heaven forbid. But then multi-tasking, according to recent research, is a myth.
Which leads to the development of Nelson's Theory of Blogorrhea, particularly as it applies to classroom etiquette: If I think it, I must say it—instantly. And the corollary, If I'm not saying it, I don't exist. "Consider this," I asked the class. "If you didn't have e-mail, texting, Facebook, etc. and couldn't keep in touch with your friends, what would happen to your social life?" It was a horrifying thought. Another phantom had appeared.
Here's a nice student reflection, which I would echo: "Many students expected a week of torture. That wasn't the feeling I got at all. Though having no laptops was annoying at many points, it was refreshing to be able to write by hand…and by typewriter too."
Yes, now the laptop is back—and here to stay, of course. The kids wrote their "My Phantom Laptop" essays on the laptop. But I'm refilling my fountain pen, getting a new ribbon for the Royal, blowing the dust off of my Webster's—right after I check my e-mail. Time marches on and it is a poor carpenter who blames his tools. This laptop on which I now write is also destined to be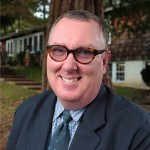 a geezer app some day, and I will no doubt be forced to embrace the next technological great leap forward. I only hope we bring the thinking and tech-shift detection habits with us into the next dispensation.
About the author
Todd R. Nelson is principal of Brooksville Elementary School in Maine.