Changing the Technology Culture in the High School
By Todd Bloomer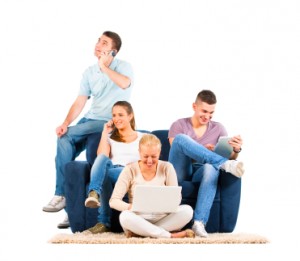 Archive of live chat with Todd Bloomer is here.
Twitter. Instagram. Skype. SnapChat. iTunes.  Vine. Facetime. In a world where On-Demand is the new norm, is education On-Demand far behind?
Students today are wired differently.  They have grown up with access to data on demand and in real time.  They are use to multi-tasking and when they don't know something, the internet allows them to quickly research the topic. 
Colton, a senior on my campus, said, "This is a generation of technology and we know how to use it."
The last frontier that seems to resist technology is education.  We force students to sit in classrooms and listen as teachers dispense information for50 minutes.  Some schools discourage the use of phones within their buildings.  Other schools still believe using technology can only occur when they take students to the computer lab. If students learn differently today, it's our job as educators to change how we deliver instruction.  How do we do that? 
It is important to include students in our tech discussions; they are very candid.
"We should have an app for only our school.  Students can access everything they need in class with the app: books, lessons, and help."
"We all use the internet for resources to help us.  I don't see why teachers don't use it like we do; for lessons!"
Kirsten believes more teachers should be available outside of class.  "Mrs. Charlton uses Twitter to help answer questions with assignments. "
Overall, students indicated that they wanted technology incorporated into lessons. 
Think about your time as a student in high school and think about how your teachers integrated technology into lessons. Was the TV cart technology? A film strip? Computer labs may or may not be the key to engagement?  Power Point presentations do not impress anyone anymore? Can they still be effective?
Students on my campus are insightful as to why more technology is not used by teachers. 
 "They prefer to teach the way they were taught."
"They grew up without using technology so some might feel more comfortable teaching without it."
Teachers have their own hesitations. 
US History teacher Mark Jedow would like to use more technology in class but said that time to incorporate material into lessons was a factor.
An English teacher, Cal Wulsberg, said time and district restrictions were reasons that more technology wasn't incorporated into classrooms.
He added that that he didn't understand all the applications that students were using on their smart phones, "But I am not afraid to ask students to be the teacher."
At the start of the 2012-13 school year, my school, Winston Churchill High, in San Antonio, Texas, was on the verge of making changes in the way content was delivered to students via technology. Assistant Principal James Barton and I took the lead and hosted a series of five after-school training sessions for teachers seeking advice on how to incorporate technology into their classrooms. 
Twenty five teachers journeyed with us as we discussed Twitter, pod casts, flipped instruction and various iPad apps. We stressed students utilizing their own smart phones in classes, as building principal Jeff Vaughan, had decimalized cell phones in classes.  Our district invested in digital citizenship training for both teachers and students. 
Our discussions focused on instruction.  A differentiated approach to meet the changing needs of our students was common in our discussions.  How can we use technology, the same technology that our students couldn't turn down, in our learning environment?
We all agreed that something had to change.  The primary "Sit and Get" approach to delivery of instruction needed to be moved secondary status to engage the 21st century learner. 
Teachers left the training ready for change.
A math teacher at Churchill, Debbie Villers, said that she was going to try recording her lesson and flipping her class.  The Flipping Instruction concept was gaining popularity within the educational community.  While it varied in many forms, basically classroom lectures were replaced with hands-on activities while the lectures were viewed as homework.   This allows the lecture to be viewed on-demand and as many times as needed by the student. 
A few weeks into the flipped instruction approach, I caught up with Mrs. Villers after I saw a student watching her video on a computer at school.
She declared, "In math, there are certain lessons that lend well to flipping. I tend to flip the classes where students are needing to learn a skill, not understand an abstract concept,"
she said, then continued, "The video also allows students to learn when they are ready to learn. So many students juggle so many activities, jobs, family issues, etc. that they are not always at a place to process information at the time the information is being disseminated." On days that she has flipped lesson, she has noticed a much more relaxed and enjoyable atmosphere with everyone working at their own pace.
"I love it," said Emily, a student in her class. "It's so nice to be able to have your teacher available for help on your homework."
Brandon, a math student, summed up the benefits best, "Usually, during class lectures, I zone out [continued on next page]