Parent Conference Tips from Teachers
By Teachers.Net Resources
Entry #2320 in
Teachers.Net Lesson Bank
:
Parent Conference Ideas
Parent Conference Tips from Teachers
Posted by 2nd gr. teacher
For my first parent/teacher conferences I brought in a card table and had 4 chairs set up around it. That way it wouldn't make the parents feel uncomfortable. Then I had a scented candle lit in the room to add a tad bit of 'home' to the situation to make myself a little more relaxed (Just make sure it isn't overpowering — nothing worse!!). I had also taken hanging file folders (with everything I wanted to share in them) and arranged them in the order that the parents were visiting so I didn't waste time trying to get organized. All of these things made my first experience a little less stressful. Hope this helps.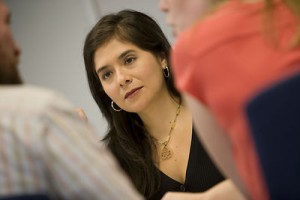 Posted by Colleen/wa/2
I have done parent conferences for the past three years. The nice thing was that I was a sped. teacher and just attended the conference at teacher request and added my 2 cents when I felt needed. I learned lots from seeing many different teachers conduct conferences. Some of the things that stick out are:
1. light music going in the room
2. sharing at least 1 positive example of good work
3. One teacher handed out bookmarks. Five finger rule.
4. Sitting next to the parent rather than across from them (like the car table idea) This shows the parent you are a team together and that you are not there to be the know it all. The parents know about their students strengths and needs too.
(This has been helpful for me at IEP meetings too).
4. Individual folders for each student. Included 1 writing sample, last math test, 1 project, and recent grades given. Also the student have filled out 5. Waiting area for other parents. Two chairs, a table with magazines, candy, and flowers on it.
Posted by mstrayer
I try to tell them the good things about their child. Also to set a goal of something to work on in the next month. (one thing to focus on…eg neatness in handwriting, or improve behavior in cafeteria or master x3 multiplication facts.) Sometimes it helps to have a blank form with three columns. THe good thing you want to say, the goal and an empty column for comments or things the parents says that you want to check on or remember.I also provide a box of tissues and paper and pen for parents to write anything they hear.Otherwise they walk out and forget. Use this as a time for you to find out information from them too!
Posted by Kim/3rd Grade
Here is what I dug out of my file and what I have done:
1. Student filled evaluation: We give report cards at conference time and I have students fill out their own sample report card. This gives the parents an idea of what their child views as limitations and so forth.
2. One hint I will give right away is to be aware of [continued on next page]