Open House, Welcome Back, Themes, Ideas – Here's What You Need!
By Teachers.Net Resources
Teachers.Net has never let you down when it comes to back-to-school help and support. Here are A+ features, activities, printables and tips to ease you and your students into a new school year.
Open House!
Open House Ideas Galore!! Make your classroom Open House more effective, interesting and enjoyable with these activities gathered from the Teachers.Net Lessons Bank!
Open House Scavenger Hunt
100% [attendance] for Open House!
Open House One Week Into the School Year
Barbara Gruber and Sue Gruber – Tips for a Successful Open House
Set up Your Classroom! Virtual Tours
9 Classroom Photo Tours – Grades K-Middle School
Welcome Back!
How to Start School Successfully by Harry & Rosemary Wong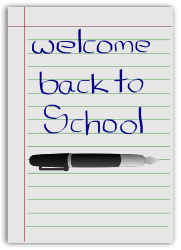 Here's a neat "Welcome back, Teachers!" idea school administrators might assemble for teachers
Teacher anti-stress survival kit, bag of goodies
2 "Welcome students!" Activities
www.teachers.net/lessons/posts/1255.html
www.teachers.net/lessons/posts/1253.html
Learning Your Students' Names: Fun, Fast, Easy and Important by Bill Page
Preparing for the First Day of School by Jan Zeiger
"Sweet Rules" Printable Posters
(candy rebus spells out rules for the classroom)
Streamline Prep Time with These Printables!

 Nancy Barth's IEP Progress Report chart ELA-1
 Nancy Barth's IEP Progress Report chart Math
 Literature Circle Role Sheets
.
HOT for August!
Ice Cream in a Bag Recipe
teachers.net/lessons/posts/2598.html
More Ice Cream Recipes!
teachers.net/lessons/posts/454.html
Watermelon Fun!
Watermelon Game & Recipe!
teachers.net/gazette/JUL02/crafts.html
Wonderful Watermelon Unit
teachers.net/gazette/AUG02/lessons.html
Watermelon printables
teachers.net/gazette/AUG02/largewatermelonshapes.html
"W" word activities
teachers.net/lessons/posts/1011.html
Down By the Bay Theme activities, includes watermelon
teachers.net/lessons/posts/2903.html
Paper Plate fun with watermelon maracas
teachers.net/lessons/posts/1525.html
Watermelon Theme activities – Teachers.Net theme chat transcript
teachers.net/archive/ec072099.html
Watermelon Theme Day
teachers.net/lessons/posts/452.html
* Fabulous Teachers.Net Resources
All Teachers.Net Chatboards linked from one page! The best peer support on the www, since 1996!
…including:
Web Authors Chatboard
teachers.net/mentors/webauthors
Educational Software Chatboard
teachers.net/mentors/software
Grant Writing Chatboard
teachers.net/projects/grants
Books & Literature Chatboard
teachers.net/mentors/literature
MORE BACK TO SCHOOL links!
5 Back to School Tips by Dr. Marvin Marshall

8 Principal Leadership Tips for the New Year  by  Dr. Justin Tarte
Learning Your Students' Names: Fun, Fast, Easy and Important by Bill Page
Back to School Tips for Teachers: Speak with Poise, Power and Pizzazz by Sue Gruber
—————————————————————-
Keep up with Gazette articles on Pinterest!