Tips for Teachers Starting Out (or Struggling)
By Teachers.Net Community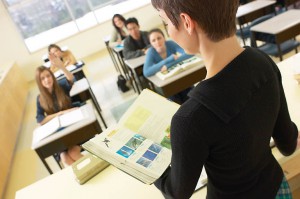 A few thoughts for those starting in our profession
Posted by "marjoryt" on the Classroom Management Chatboard

I started posting on Teachers.Net back in 1999, during my disaster of a first year. With the help of posters here, I managed to survive that job, being asked not to ask for another contract (that's really close to being fired, but not exactly), job hunting, finding a new job, being successful in that new job (in an alternative school), working through graduate school, teaching full time for at the alternative school and part time for two community colleges, and now working full time for a community college, where I deal with at-risk students and mentor new instructors.
That's lots of water under my bridge!
Here are a few points that I offer to anyone trying to organize their "teaching" head; it's the same advice I offer our new employees:
1) You aren't being paid to be a friend. You are being paid
to be the teacher, the coach, the mentor, the cheerleader,
and sometimes the judge. Don't worry about being the
friend. Work hard on being the clear, firm, and honest
teacher. 2) Your students are human and so are you. There
is nothing wrong with that. Everyone makes mistakes,
especially young humans in stressful situations. From that
perspective, you can and should help yourself and everyone
else look for the win/win resolution to problems. This is
especially important with middle school and high school
students; it's absolutely the only way to work with at risk
and nontraditional students.
Corollary – It's okay to say, "I don't know the answer to
that question yet. I'll get back to you." It's also okay to
say, "Folks, I made a mistake. I did X, and that was wrong.
I'm sorry. Here's my fix. I learned from the situation and
hope to avoid it in the future. Let's move on." Remember –
when you do this, you are modeling behavior for your
students.
2) Anything you can do to organize your teaching life, do.
It will pay off in efficiency, accuracy, and confidence.
3) If you developed a good idea, share it. Your brain WILL
develop more good ideas in the future. Yes, people will
remember you had the original thought.
4) One of the fastest ways to develop classroom behavior
issues is for you to be unorganized and slow. Move the
class along faster and be ready for the next task.
5) Make sure that every unit has some activities achievable
for all students; make those activities quick checks, so
you can monitor learning issues.
6) Your first year in a job will be stressful and
difficult. It is similar to being a hospital resident.
7) Your 2nd year in the same job will be less stressful,
but still difficult. You are still a resident.
8) Your 3rd year in the same job will be less stressful and
less difficult. You are the senior resident and pretty much
know what to do – until you change jobs or grades or
subjects.
9) Learn the difference between unit activities for
learning and practicing and evaluation versus activities to
burn time or punish the students or to amuse yourself.
Develop the reputation of being the "to the point" teacher
who doesn't waste classroom or homework time.