Initial Letter Name Activity and Bulletin Board – Prek – K
By Teachers.Net Community
Tweet

First, the activity pictured, then below that see additional, related lessons and activity links!
One of the first activities of the new kindergarten year in the contributing teacher's class is this activity in which students receive a cut out of the first letter of his or her name [you can make your own large letters, written on and cut from card stock] and stickers, glue-ons, markers, etc. to use in decorating the front of the letter.
When finished, the beautiful letter is added to the coordinating sentence strip on the bulletin board. (Vary and adapt the activity to your students' abilities. Example: Older, more advanced students can cut out their own initial letter and write out the text on the sentence strip.)

.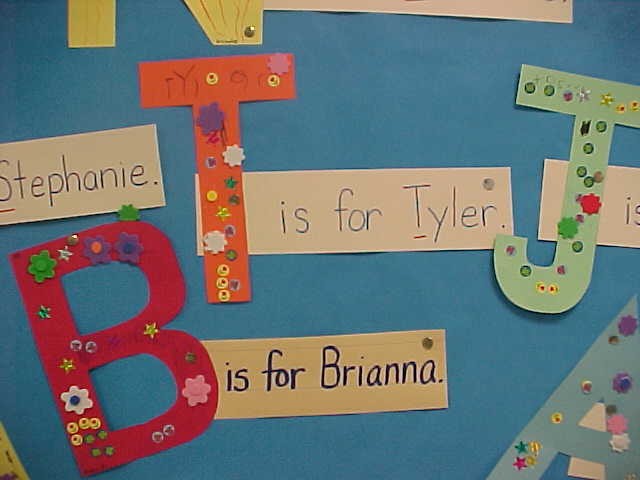 .
Optional: Add student photos, or have students draw self portraits to post on the board.
The display can be used for letter recognition and sight word practice, by individuals or whole group, with one person pointing to each initial letter while saying the sound, then reading the sentence: "/t/ /t/ /t/, T is for Tyler."
.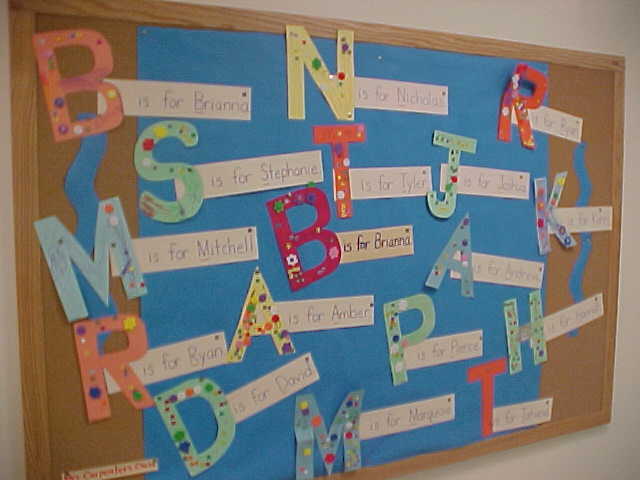 .
Additional activities:
Find the names that begin with the same letter.
Students who are ready can add a sentence stating another word that begins with the initial letter of their name.  "T is for tooth."

Related lessons and activities:

Find additional lessons or submit your best lessons here!