Idioms in Spanish – ESL, ELL
By Teachers.Net Community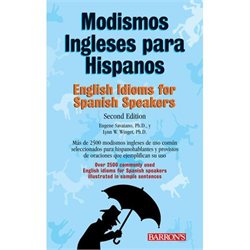 Does anyone have a list of idiomatic expressions they would be willing to share? My level 3 students have expressed interest in learning more of them at a faster pace than we've done so far, and I want to act on this before they change their minds! – Gracias, Anne V. on the Spanish Teachers Chatboard.
———————————-
Response by anonymous:
Llamar pan pan y vino vino: To call a spade a spade
Cool: que padre (Mexico), que guay (Central America), genial (Peru), chevere (I forget where that's used)
Como un perro con dos colas (Argentina): So excited I can't stand it
Bailar con su propio panuela: Do you own thing (not sure where from.. learned from another teacher)
Agorrarse (to drown.. I can't remember it in Spanish right now, sorry 🙂 en un vaso de agua: To make a mountain out of a molehill (Central America and probably other places)
estar hasta en lo sopa: To be everywhere (as in Kate Gosselin is all over the news) (not sure.. I just read it in a book)
chucho (not sure of spelling): Argentina – To be very content/proud
chuchando.. making a big deal over nothing
Ira de Guatamala a Guatapeor: Go from bad to worse
fumarse de clase: cut class
buscar pelos en un huevo: be nit picky
Me caigo en la leche (Spain/slightly rude): I'm shocked
hacer su santa voluntud: do whatever the heck you want (I don't think it's crude enough to say "the hell you want")
el edad de pavo (Argentina): At that age.. meaning s/he is between the ages of 11-17, not for middle age or other periods.
caerse bien (most places): get along with
———
Response by va:
Chévere was definitely used in Venezuela…have also heard  morrocotudo and macanudo to mean the same.
Ahogarse is the correct way to write "to drown" for the expression  below.
Thanks for sharing / had not heard the "do your own thing" expression and am guessing that it should be panuelo versus panuela
———-
Here are a few lists:
http://zachary-jones.com/spanish/super-avanzado
Hope that helps!
Saludos
Zachary