Edible Bird's Nests
By Teachers.Net Community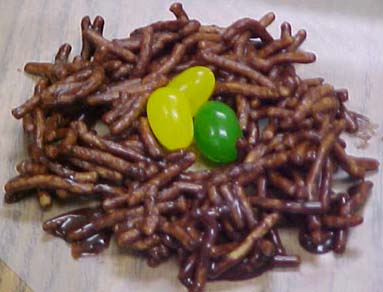 While birds are busy outdoors building nests and starting new families, you and your students can create edible nests in the classroom.
Heat one container of chocolate frosting in a saucepan. (It liquefies when heated.)
.
Then add 1 bag chinese noodles. Blob the mixture onto wax paper and have kids "form" nests using plastic spoons.
.
Use jelly beans for eggs. Nest hardens as it cools.
Submitted by Sherri Mcwhorter