Differentiated Instruction – Teachers Offer Help and Resources
By Teachers.Net Community
Teachers on the main chatboard share their favorite books on Differentiated Instruction. Add yours to the Comments section lower on this page.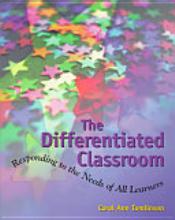 Zodea posted:
Can someone recommend the best book to buy to get started with differentiated instruction? I teach high school science. Many of my lower level classes have a wide range of abilities and I would like something that gives the lower level students something more concrete to work with without slowing everyone else down.
I'm not really sure that what I want is differentiated instruction, but until I read something about it how will I really know? I probably need to actually try it first. Not sure how it would work in high school, but think the students could benefit. So much seems to focus on the lower grades. Advice? Resources?
___________________________________________
There are two that I like:
How to Differentiate Instruction in Mixed-Ability Classrooms by Carol Ann Tomlinson
http://www.amazon.com/How-Differentiate-Instruction-Mixed-Ability-Classrooms/dp/0871205122 (This was one of my textbooks in college).
The Differentiated Classroom: Responding to the Needs of All Learners by Carol Ann Tomlinson
http://www.amazon.com/Differentiated-Classroom-Responding-Needs-Learners/dp/0131195026/ref=pd_bxgy_b_img_b
Going in a slightly different direction:
Multiple Intelligences and Language Learning: A Guidebook of Theory, Activities, Inventories, and Resources (Alta Professional Series) by Mary Ann Christison
http://www.amazon.com/Multiple-Intelligences-Language-Learning-Professional/dp/1882483758/ref=wl_it_dp_o_npd?ie=UTF8&coliid=I2TFQZ8A6NCU2X&colid=1RF129OJ17DX
Chan
—————————-
Hi Zodea,
You'll probably like this response even less than the one you admonished us not to give: I don't especially like the work of Tomlinson. I don't like gimmicks that appear to make it look like all students are doing the same thing but on different levels. We've toyed with differentiated instruction for years and I have a one word response: workshop. If you run a true reader's workshop and a true writer's workshop, they are naturally differentiated. We (5th grade teachers) are trying to run a math workshop this year, but it's a lot tougher since all students are held to the same standards. I'd be happy to discuss DI at length if you're really interested in my opinions,
Judy
——————————
Teachers in my district have been using these books with a great deal of success. Worth taking a look at.
Books by Laurie Westphal
http://www.amazon.com/s/ref=ntt_athr_dp_sr_1?_encoding=UTF8&sort=relevancerank&search-alias=books&ie=UTF8&fieldauthor=Laurie%20Westphal#/ref=nb_sb_noss?url=search-alias%3Dstripbooks&field-keywords=Laurie+Westphal&rh=n%3A283155%2Ck%3ALaurie+Westphal
Miss Fitt
———————————————-
There are several books that discuss differentiation in science classes specifically. A search on Amazon will bring them up. Truthfully, I've read most of them and have not been particularly impressed.
Douglass Llewelyn has a book out, but I haven't read it yet. I usually like his stuff, but it tends to be more theoretical than practical
My newest, most favorite book right now is Designing Effective Science Instruction by Ann Tweed. You can get it from NSTA. It is fabulous. Not about differentiation per se, but the author does a great job explaining how to design instruction for all students. What I really liked was how she showed how Marzano, Wiggins and McTighe, Hunter, Lowery, Bybee…. just about everyone
who has made an impact in education and science education … are all pretty much on the same page. She describes a structure she calls CUE: Content, Understanding, Environment, to bring it all together.
It's a great book.
Muinteoir
———————————–
Differentiation is very appropriate (and much needed) for high school students. You are absolutely correct in your deduction that differentiation opportunities can focus on providing additional concrete examples for the lower/on-level students while providing
opportunities for those students who are ready to move ahead or take the information to a deeper level.
Someone mentioned Differentiating Instruction with Menus, although you will find the highest the series goes at the moment is 9th grade (middle school edition.) The high school series is in the works, but won't be out for about 2 years (not much help right now, I know).
Based on what you described, I do think that menus would be appropriate for you, as you can design your menus (choice boards) with tasks, problems, homework questions or classwork options and students go through and select how they wish to meet a criteria. This is the short and sweet of the whole menu idea, but I used them all the time in my secondary classroom.
Lauri
—————————-
I don't know your grade level. I found the Daily 5 and Debbie Diller's Work Stations were the biggest help for me. They don't exactly tell you what to do but how to do it.
I have never had trouble figuring out how to teach to my students' needs, but I did have trouble organizing it in a meaningful manner.
Daily 5 helped me set up meaningful Work Stations and Deb Diller gave me some ideas about how to do them. [Printable Daily 5 Log]
I organized my class two different ways. Homogeneous groups for instruction (a number) and heterogeneous groups for Work Stations  (a color). I put purchased paper puzzle pieces with students name and number on their desks. Students have colored folders the same color as their puzzle piece to store their center work.
I pull kids from the Work Stations to hear reading groups or teach skills. I put the center names in a pocket chart and post the puzzle
pieces next to the daily center assignments.
My students have a specific place and assignment at all times, and the assignments are meaningful and standards based.
I set a timer and work with groups for 20 minutes, twice a day, 3 days a week. I have 6 "center" groups and 5 reading groups.
I meet more often with my lower kids, but do touch base with every child at least once a week.
This isn't an "easy" organization. But your students will love the independence. You won't believe how much you can get done.
Paula
Also read:
Differentiation Ideas for Middle School Math
A Great Model of Differentiation by Bill Page
Differentiation and Ability Grouping by Cheryl Sigmon
Personalization and the differences between differentiation and individualization (chart)
http://barbarabray.net/2012/01/22/personalization-vs-differentiation-vs-individualization-chart/