Best Butter Cookies Ever – Shared by Magoo
By Teachers.Net Community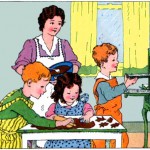 Best Butter Cookies Ever (honest!)
Posted by Magoo on the Teacher Recipes Chatboard
I got this recipe from our local paper in 1981. It's pretty easy and they taste SO good!
This recipe makes 4-6 doz. cookies, depending on the size of cookie cutter you use.
What you need:
1 cup real butter, room temp.
1 1/2 cup sifted powdered sugar
1 egg
1 tsp. vanilla
3 cups sifted all-purpose flour
1 tsp. baking soda
1 tsp. cream of tartar
1/2 tsp. salt
Pre-heat oven to 375.
Put on nice music.
In large mixing bowl, cream the butter.
Gradually add p. sugar and mix (I use a spoon) till light and fluffy. Add egg and vanilla and stir till thoroughly combined. (I mix the egg and vanilla together first, then they mix easier.)
In another bowl, sift together the flour, baking soda, cream of tartar and salt.
Gradually add this to the creamed mixture and stir till well combined.
Combine into manageable ball. (If dough seems too dry, add  tiny little drops of milk but be careful not to get mixture runny.)
Take a gob of dough and roll it out onto lightly floured surface till it's about 1/8″ thick.
Cut with cookie cutters (flour them first, and in between uses).
Repeat till your dough is all gone.
Put cookies on baking pan (I spray it with PAM).
Bake for 10-12 minutes in preheated oven.
Cool cookies on wire racks.
DO NOT FROST TILL COOKIES ARE TOTALLY COOL OR YOU WILL HAVE A REAL MESS. (Voice of Experience..)