Captivating Civil War Activities for 8th Graders
By Teachers.Net Community
The peer support available on the grade level chatboards is amazing. Andrea posted a plea to colleagues for help with creating exciting lessons and experiences for her students, and the other teachers didn't let her down!
Posted by Andrea T. on the Social Studies Teachers Chatboard
I'm a first-year 8th grade Social Studies teacher. So far, I like what I have done with my lesson plans — I've had a nice variety of assignments and I've been able to relate much of what I've taught to the student's life. Right now, I'm planning the causes of the Civil War and I'm OK with that (although I'm open to suggestions).
However, I'm not sure what I want to do with the Civil War itself. I'm having a harder time with this. I don't want to bore my students with just the battles of the Civil War. Does anyone have any suggestions? I still have time because I won't be teaching this unit for another month or so. Thank you.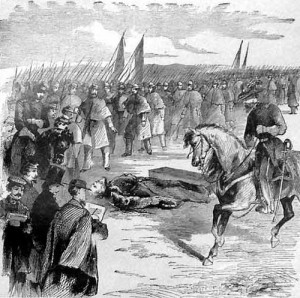 Posted by GA Peach
I recently finished a Civil War unit on the events of the CW. We did a map and identified the key places. First I printed maps as large as possible on 8 1/2 X 11 paper. Directions were given to label the states and color blue or grey and identify the border states with crosshatch lines. The map was then glued to over-sized card stock or poster board (not a full sheet). Students summarized each key event, wrote out these summaries and glued down around the map with lines connecting to the places on the map. Summaries were about the size of an index card. The rubric put most of the weight on the summaries. Students enjoyed spiffing up the maps with symbols, etc. and making them eye-pleasing and unique.
Posted by Kev There is an excellent simulation in TCI's History Alive. You form a ring with desks and students duck down in the middle as if it were a siege. For the whole period you play very loud battle sounds.
There are placards with various information placed around the the ring of desks that they must respond to in various ways.
Watching 35 13 year olds crawl around a tight space is quite an experience. While it often begins with some giggles it doesn't take long for the students to get a sense (no matter how small) of what living with a siege would be like. It is very powerful.

Posted by Sara
I find details don't work as well as concepts with Middle Schoolers. The causes of the war are good to go over and then ask – is this worth going to war for? Student opinion and encouraging them to form opinions and express their opinions clearly and calmly is a valuable class activity.
Only after there's been discussion on that would I venture the question – is this worth going to war for if it's going to kill more Americans than have ever been killed before and in pretty horrible ways?
I'd talk about how different this war from others that preceded it this war having more modern technologies than other wars. Much online for this – photos of the new gun (continued)