20 Things to Never Say to Your Co-teacher When Co-teaching by Susan Fitzell
By Susan Fitzell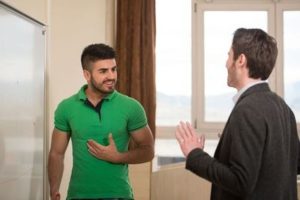 I was co-teaching biology and working with a teacher who could say the meanest things with a smile on his face. One day, I was teaching the parts of the heart. When I finished explaining the difference between the inferior vena cava and the superior vena cava, he told the class, "Yes, it's just like Mrs. Fitzell and I. She's the inferior vena cava, and I'm the superior vena cava." The class laughed. He repeated the analogy again, months later, when reviewing the parts of the eye. The eye has an inferior oblique and superior oblique, so he said it again. He thought it was funny. I thought it was mean. These were two of the most humiliating experiences I had while co-teaching because he said these things in front of the entire class. I still feel a flush of humiliation as I recall those two events.
Co-teaching and collaboration is challenging because it requires educators to stretch out of their comfort zones and embrace an initiative that they may have had no say in. Many teachers are forced into co-teaching and find themselves paired with another adult in the classroom without any training in the people skills part of the process. They just don't know what to do or what to say. Yet, what we *say* to each other can make or break our relationship before we even begin.
If I was asked the question, "What would you say, is one thing that you should never say to your co-teacher." My reply would be, "Don't announce to the class that you are superior and your co-teacher is inferior." But, not everyone is like me. So, I asked my teaching colleagues what advice they'd give their peers working in co-taught classrooms.
Here's what they said:
"You are the content specialist, I'm just here for special ed support."
Your co-teacher hears: I'm really not interested in working harder than I have to.
"You can't see the answer key."
Your co-teacher hears: You're going to help the students cheat. I don't trust you.
"Are you sure you get this?"
Your co-teacher hears: I'm the one with the ______________ (fill in the blank) degree. You're not smart enough to do this job.
"We don't do it that way!"
Your co-teacher hears: Your expertise doesn't matter.
"Your input isn't ____________ (fill in the blank: needed, valuable, relevant.) You have nothing to offer."
Your co-teacher hears: I don't respect you or your teaching skills.
"That's not right. You are wrong. My way is better." in an accusatory tone.
Your co-teacher hears: I don't respect you or your teaching skills.
"I can't plan with you during our planning time. I have to write IEPs."
The problem with this statement is that even if you do have IEPs to write, your co-teacher could probably give you as long a list of what they need to do during that time.
Your co-teacher hears: Planning with you to benefit our students is not a priority of mine. You and the students are not important.
"This is an AP class. We don't make accommodations in this class!"
Your co-teacher hears: It doesn't matter how smart your students are, I'm not willing to teach them if they don't learn the way I teach.
"That student isn't one of "mine" so I won't work with him"
Your co-teacher hears: I'm not interested in being collaborative.
"I didn't like your lesson, so I had "my" students do it "my" way."
Your co-teacher hears: I don't respect you or your teaching skills. [continued on page 2]