Silver Linings Textbook
By Sharon Thomas
I am nervous about this one. I have written several versions of this post, and–finally–my Copyeditor-in-Chief (aka my husband) says that this is the version I should launch. This one feels very personal, and I feel like I might throw up a little in posting it, but I needed to write it. I hope you get it.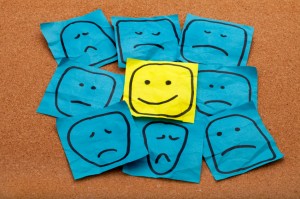 An article in Slate I read some months back claims to support American workers but actually (to my mind) degrades them. That author says that encouraging people to "do what they love and to love what they do" (that feeling that comes in tandem with having what I would term a mission or a calling) devalues work and the American worker. I dispute this assertion mainly because I think that the author does not understand what having a mission or calling adds to one's life, and I think she snobbishly assumes that the only jobs anyone could ever want to do are the ones that the author herself finds to be enjoyable—if she could never view them as mission-worthy, then neither could anyone else. No, no, no—that's not how a calling or a mission works, and there are damn good reasons to seek one's calling in life. So step off, young lady, and let the old lady chime in.
People ask me some version of this question all the time: "How come you like your job so much?" It is perhaps a sad state of affairs that I sometimes feel as fanciful as a unicorn in loving what I do for a living, but I have found (especially as I get older) that truly enjoying one's job is a rare and precious thing. I know the reason why I love my job and why I have been able to maintain that affection for so many years. I have written about it in other forums (like this one), and I have even been interviewed about it by researchers (happiness research exists—how cool is that?). Interestingly, others bring up the topic to me all the time.
In a nutshell, I am happy because I
choose
to be happy, but there's an element of that attitude that I have always been much more reluctant to talk about because people typically bring so much of their own baggage to the table when the topic comes up (religious baggage, political baggage, etc.). Regardless, I have decided to let it all hang out for you, kind reader. The foundation of my perkiness is this: I am able to stay focused and love this job more than most people love anything because I have what is (for lack of a better word)
a calling
. Technically speaking, a calling is "a strong urge toward a particular way of life or career," and my beliefs about the universe are at the root of that calling. (
Sidebar
: The word "calling" sounds so holier-than-thou until one has one, and then that mess—like deciding to be happy—is hard and ugly.)
Here's the deal: I believe that each person on this planet has a purpose. I think that most people go through life either not actively searching for that purpose or turning their backs on the signs that are guiding them to that purpose (the quest for more cash being Distraction #1 for most folks). I think this lack of awareness about one's purpose is at the core of why most people dislike their jobs.
Work is, I believe, valuable in and of itself without any calling. People need work to feel empowered and useful, and I find that sense of usefulness to be key in whether people I know consider themselves to be, to some degree, happy. Work in and of itself is good (very, very good), but to get to the place where joy is a part of one's daily experience, where the slings and arrows of a given job do not bother one the way they bother others, one needs to be pursuing one's calling. If I have done anything right in my life, it is that I have spotted and followed the signs that guided me to the most important (and joy-spawning) things in my life: my husband, my children, my friends, and my job. That's it, really. I look for signs. I am always looking for signs.
At the heart of this idea about each of us having a purpose in life is the idea that there is a guide behind all of this (a God, if you will). I do not claim to have any answers on what God is, what God thinks, or which political party God supports (although I really hope it's mine). What I do understand is that each of us is connected to something larger than ourselves, and following the signs of that larger entity (whatever it is) helps us to make sense of the universe. Being able to make sense of the universe when the chips are down helps us to maintain sanity and focus (happiness, if you will).
My career in public education has two rules as its core.
I must follow my calling (cannot quit, cannot turn my back on it—because I know that I have a calling, I know what it is, and I know why it matters), and
I must love everyone (love all kids, every kid, every single kid, even the ones I don't like).
When times get tough, and I want to quit (and that happens), I can't quit because [continued on pg. 2]