Give It Away, Give It Away, Give It Away Now
By Sharon Thomas
I've had this post bouncing around in my head for awhile now but couldn't make sense of it. Thanks to the Red Hot Chili Peppers and their brief appearance at the Super Bowl for finally giving me a title to play with and thus helping to pull the pieces together. Anthony Kiedis, this one's for you.
     I came to teaching later in the game than most (starting age for most = 22; starting age for me = 33). By the time I became a teacher, I had held several different types of jobs, I had managed employees, I had been responsible for deadlines and budgets, and I had kept alive two small human beings for the first 6 years of my parenthood. Perhaps this life experience is the key reason why I embraced the idea of becoming a "teacher-leader" from the earliest days of my education career.
.
     Teacher-leadership has become central to my philosophy about what separates strong schools from weak schools, and it is a banner I wave in as many professional situations as possible. A funny thing happened on my way to teacher-leadership, though: I discovered that, the more power I give over to others, the more power we all have and the more we move education where it needs to go.
.
     To the uninitiated, teacher-leaders are teachers who hold leadership roles (either formal or informal) in their systems, schools, or departments. A multi-state consortium that studied the teacher-leadership issue (yes, it's an issue), defined it thus:
Teacher leadership is the process by which teachers individually or collectively, influence their colleagues, principals, and other members of the school community to improve teaching and learning practices with the aim of increased student learning and achievement.
.
     I believe that, for real school reform to happen, teacher-leaders must have important roles in every facet of change, from classroom implementation to county-wide decision-making, to state and national advocacy. I have two key reasons for this belief.
.

1.

     
We stay
. Teachers typically remain in a given school building much longer than administrators do, and thus change does not happen without us. A new principal or assistant principal can come in with any agenda (standards, discipline, instructional strategies), but if the key teacher-leaders in the building are not on board, those changes are not only going to have trouble getting off the ground initially; they are also going to disappear once that administrator is promoted or transferred (something that happens usually after only a few years for most).  Teachers hold down the fort, and that makes us incredibly valuable.
2.

   
We have nothing to lose by telling the truth
. As part of my teacher-leadership banner-waving, I have signed up to take part in various seminars, classes, and programs at the local and state level designed for "people interested in leadership." I am often the only person in those situations who wants to remain a classroom teacher (not always, but typically the others are preparing for administrative roles), and that ends up influencing discussions in so many ways. Because those administration-bound folks are looking to change positions in the near future, they are much less likely to voice dissent with what they perceive as the opinion of the leadership in the room; they understandably view those sessions as "pre job interviews," and that means they may temper their dissent for the most part–thus the reason I often become the "mouthy broad" in the house.
      I can say what I think because I am not looking for any role other than the one I have. I have a strong sense of personal power because I have solid job security, and I don't want another job. [It boggles my mind when fellow teachers who share those two characteristics are still afraid to speak their minds to authority figures. We have all the power in the world, folks. We have the moral obligation and the job security to let it rip, so do it.]
     No one really knows what to do with me in those forums—I don't fit the traditional leadership model—but they kindly let me come along. I continue to set myself up for these awkward moments to make my case: "Teacher-leaders! We're here! We're here! See? We don't want your jobs, but we want you to include us!"
.
     To become a teacher-leader, one starts by, frankly, working too much. Once one's school leadership identifies a teacher as smart and/or hardworking, the offers pour in: Want to do curriculum writing? Want to be on the School Improvement Team? Want to serve as the Student Council advisor? Want to coach basketball? An American school has about a zillion jobs to do, and we need good people to do them. This is heady, flattering stuff for a new teacher, and those of us with the work ethic and the heart jump in with gusto.
.
     Because teaching is considered a "flat" profession (no real upward mobility within the job title itself), these assignments are essentially one's only form of "advancement." Some roles are tied to pay stipends, some roles are more glamorous than others, some roles involve hobnobbing with fancier school personnel than others, and so forth. Thus, the average teacher-leader goes through moments of feeling threatened by others who have particularly cool roles. Competition develops, and that competition drives many folks to become burned out and to become focused on things like the money and the zazz in selecting which roles to play. A power game develops, and I've never seen a power game that benefited students (or that was really any fun to play).
.
     To my shame, I've played this game. I've signed up for jobs that appeared glamorous or lucrative, and I've been bummed out when others were chosen for roles over me. Over time, I have become a strong teacher-leader in my universe, and my successes and failures in that role led me to start seeing the whole situation in a much more realistic light. I began to see a trap developing that I had not noticed along the way, and I see it more and more among my teacher-leadership brethren: We think that the more powerful roles we have, the more power we have. Makes sense, right? Wrong.
Here is what I have discovered:
1.

     
The more I build up other teachers as leaders (and discourage them from playing the power game), the more powerful I am.
2.

   
The more I search for roles for others and not for myself, the more powerful I am.
3.

   
The more I take on the unpopular, less glamorous, less fun jobs that need doing and let others take the cute stuff, the more powerful I am.
4.

   
The more I focus on actually leading and the less I focus on being perceived as a leader, the more powerful I am.
     When I say, "the more powerful I am," I do not mean more powerful as a teacher-leader. That only comes through two things, ultimately: 1. how well I do my job and 2. whether other teachers believe they can trust me.  Instead, I am more powerful as a human being. Giving up my old ideas about what constituted teacher-leadership helps me focus more on doing a good job (whatever that job is in a given moment) and on fostering trust with my colleagues–just getting better. So you want to be the one who presents at the conference? You go, girl. You want to be the one who facilitates at this month's study groups? Awesome. I don't have the right outfit for it anyway. You want to be the major domo at state curriculum writing? Do it. And I'll help you navigate the process if you like.
.
     I still take on new roles occasionally, and some of those roles are fun. My decision-making process when choosing those roles, however, has changed. My guiding questions are different: "Will this role have a direct benefit for my students, my fellow teachers, or my school?" and "Am I really the only one who can do it? Can I suggest somebody else?" I usually can think of somebody else. I usually can say, "No." That was not the case a decade ago. Back then, I always wanted it to be me.
     Again, an American school has a zillion jobs to do, and it needs good people to do them. I believe in teacher-leadership as a cornerstone of meaningful reform. I believe in the power of teachers to change the world for the better. I believe in the young and their potential to lead us. My husband's human resources world calls that "development"—working to make ourselves better by developing others to be better in tandem. I call it, "getting over ourselves." If we want them to lead, we need to take our opportunities, our power, and our leadership, and simply give it away.
.
About the author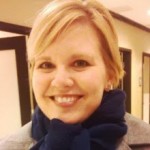 Sharon L. Thomas, MEd, NBCT, is an English teacher and instructional coach at North East High School in Cecil County, Maryland. She has taught all levels of English in grades 9 through 11 and has served as a writer, coordinator, and facilitator of school-, county-, and state-wide professional development.
She was the 2008 Cecil County Teacher of the Year and a finalist for Maryland State Teacher of the Year. Ms. Thomas writes has served in various capacities in curriculum and instruction at the local and state levels, co-facilitates Cecil County's support network for National Board Certification candidates, and mentors new teachers. Sharon's blog is Schooled Teacher.