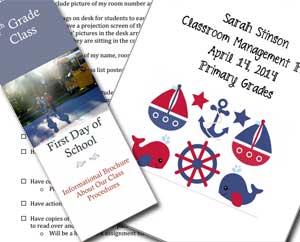 Stacey Allred is celebrating her 20th year of teaching this year. As an elementary and special education teacher, she used the techniques that effective teachers use to create a community of learners in the classroom:
* Greeting students at the door
* Learning students' name as quickly as possible
* Getting students to know one another
* Celebrating successes
* Asking questions about their lives
* Sharing information about herself
* Posting objectives before the lesson begins
Now as a member of the faculty at Ball State University in Muncie, Indiana, she still uses the same techniques to create a community of learners in her classroom. Not only is Stacey modeling these techniques for her students to someday use in their classrooms, but it has an impact on the students' perception of her as their teacher....

By Jennifer Davis Bowman Ed.D.
One evening while catching up on the show "Orange is the New Black", I watched as the characters discussed the caged animal scenario when considering prison release. After some thought, one character hesitantly acknowledged, "I'm the giraffe". The realization is powerful in terms of the show and also for educators. …

By Leah Davies, M.Ed.
For parents and teachers, strategies for helping the angry child.

By LeAnn L. Robertson
A common misconception is that children "outgrow" ADHD, but the truth is that symptoms often linger and continue to have an impact on the daily life of the sufferer. ADHD affects a large number of adults and consequently affects a large number of teachers. So what does the classroom …

By Stewart Brekke
Many in the press and in government use scores on standardized tests to infer so called "bad" or "good" schools or use the standardized test scores to indicate "good" or "bad" teaching in the classroom. The plethora of tests used in states and school systems across the country has made …

By Tiiu Roiser
Why are photographs an important element in teaching and student learning?
It's an animal that's about the size of a Loonie (that's a Canadian dollar coin to you non-Canadians), but sometimes it can grow to be heavier than a small child. It's usually green, but some are also shades of brown …

By Susan Green
As teachers it is our responsibility to create an environment that embraces all personality types. In any classroom we are likely to see any number of the several common personality traits. Here are a few you might recognize, and tips for differentiating according to the individual student's unique needs.