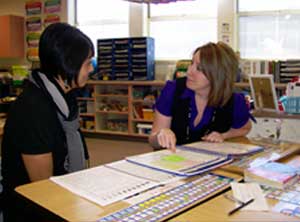 Alexis remembers fondly in her first year as a coach, when she began to work with a teacher that had only been in the profession for a year or so. She observed in her classroom, giving her non-evaluative immediate feedback on what was observed. Alexis was constantly in her room modeling strategies for her to use and excited to do so....

By Todd R. Nelson
Simple observation is a valuable skill; It can't take place with depth and mindfulness if we're rushing.

By Dr. Brad Johnson and Tammy Maxson McElroy
Well, its the start of a new school year. This means teachers are excited, eager, and ready to make this the best year yet! However, as the days and weeks begin to pass, it is important to remember to take care of your body, so the enthusiasm …

By Karen Cox
Celebrate Grandparents Day in a big way with these GRAND ideas from Karen Cox!

By Lisa Bundrick, LMSW. and Alicia Backus, LCSW
Educators appear to be faced with a growing number of students who have mental health needs. While it is not the educator's job to diagnose a student with a mental health diagnosis, it is helpful for educators to have a general understanding of mental health disorders and the treatment options …

By Eric Wignall
You suck at keeping your computers and phones safe.
I can write that because you are someone pressed into working on 12 different projects before the week is done on computers at work, at home, on local networks, on home wireless hubs and occasionally swimming in the wireless pool at Starbucks …

By Lisa Sassano
It starts with the commercials. Then the newspaper circulars. It's on the radio, television, and in storefronts everywhere. Parents cannot wait; you can almost see them holding their breath in the supermarkets or at the swim clubs- waiting for that moment. A moment of freedom …

By Teachers.Net News Desk
As teachers and students begin another academic year, here are five practical tips for how to improve the student experience and learning in the classroom. The advice is just a sample of the insights drawn from surveys conducted with more than 70,000 students nationwide.

By Bill Page
A cruel insidious form of child abuse continues unacknowledged and unabated.

By Teachers.Net Community
Snooping around Read Write Think site last night, I came across this cube…more fun than the one I'd used with my ESL classes this year on which they had to fill in the cube by hand (write and illlustrate for a book report).
This one is for character information. I …

By Barb Stutesman
The wisdom of Katherine Mansfield, George Ade, Randy Pausch, William Peck, John Lubbock, Ralph Waldo Emerson, Ray L .Wilbur, Ann Lieberman, Joyce C. Hall, Randy Pausch, Amelia Earhart, Raymond Duncan, John F. Kennedy, Philip G. Hamerton, Henry David Thoreau, Chuck Noll, Randy Pausch, Samuel Johnson, Henry James, Edward Gibbon, Ralph …

By Tim Newlin
September is an important month that marks the start of the Autumn season in the Northern Hemisphere and the beginning of Spring in the South. September is one of four months with only 30 days, and this year Sept. 11 marks the 10th year in remembrance of those who lost …