Writing Like a Scientist – A Model Project of Disciplinary Literacy
By Sarah Powley, Education Coach
Follow Sarah Powley on Twitter @AmericanClassrm ‏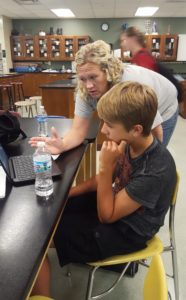 The first year, we just put a toe in the water: We addressed the use of the passive voice.
The next year, we took on pronouns.
This year, my colleague and I dove in head first: We tackled passive voice, pronoun usage, scientific description, conciseness, the particular vocabulary of science, and (of course) citations and internal documentation. The goal: improved Science Fair projects–and ones that read like science writing.
An instructional coach for secondary teachers, I was thrilled three years ago when Mrs. Amanda Cox approached me about her goal for the year: incorporating the Indiana Academic Standards for Literacy into her Honors biology classes. Mrs. Cox took the standards  to heart.  "I want my students to write like scientists," she told me, "but they don't know how–and I'm not sure I know how to teach them. I'm not an English teacher."
She's not alone. The literacy standards–which apply across the curriculum–challenge many content area teachers.  Writing instruction begins in grade school, but the skills that are emphasized are the ones in the English teacher's toolbox: introductions that capture the reader's attention, strong action verbs, colorful vocabulary choices, rhetorical questions, apt quotations.
English teachers don't focus on the language of science. We want variety in sentence length and structure to sustain interest in the content, and we aim for metaphor, simile, and other figures of speech for the same reason. The passive voice gives us the heebie-jeebies.
If you're a content area teacher, it is easy enough to require writing, but requiring something means teaching it–or knowing for sure that it has been taught–and then grading it. Where is the professional development in reading and writing for content area teachers?  It came, delightfully and productively for my colleague and me, in the form of co-teaching.
We began with the passive voice, one of the most distinctive features of science writing–and a requirement for the Science Fair project.  In science, it's the discovery that is important; the role of the specific scientist is downplayed. So, in a  traditional write-up of a scientific investigation, the scientist is missing from his or her report. Instead of saying "I discovered X," a researcher would write, "X was discovered." Mrs. Cox's 9th grade students had never even heard of passive voice.
A grammar lesson was necessary, and I was happy to prepare and deliver it. An English teacher by training, I was in my element. Even more fun, I was in front of students again. I had a chance to refresh my classroom skills.
With practice, Mrs. Cox's students learned to write sentences in the passive voice. Their lab reports began to sound a little more scientific. But a quantitative payoff wasn't there. The average grade on the Science Fair projects that year was the same as the year before: 76%.
So the next year we tackled pronoun usage. Again, in science writing, pronouns are scarce. When one is used, its antecedent is unmistakable.  So another grammar lesson was in order: What's a pronoun? What's an antecedent? Why do they have to agree? And what's agreement anyway?
Every English teacher in the country knows how pesky pronouns can be and how tough it is for kids to master them. Drill and kill doesn't much work as a strategy for learning. A teacher can spray red ink on a paper like Round-up on weeds and still the pronoun errors sprout again in the next paper.
Mrs. Cox and I decided on an old-fashioned revision method: We projected sentences onto the whiteboard that we had drawn from the students' own lab reports and, working together as a class, corrected them. That process worked well.  In correcting the pronoun errors, of course, we uncovered other problems and eliminated those, too: problems of conciseness and specificity, problems of vocabulary and redundancy.
For example:
.
New information is important because it can change the way you view other information.
became
New information changes the way other information is viewed.
.
We couldn't figure it out but as we received new information and hints, we got closer and eventually we got it.
became
Understanding developed gradually.
.
New information and scientific processes are important because they help further our understanding and develop our research.
became
Scientific inquiry yields new understandings that, in turn, inform further research.
.
By the end of that second year, students were more sensitive to language and could quickly [go to pg 2]