Thinking Made Visible by Sarah Powley
By Sarah Powley, Education Coach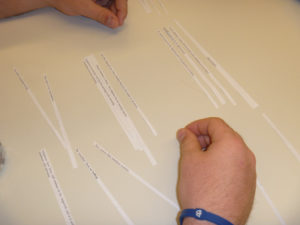 the student's logic. That makes checking proofs time-consuming—just as, when reading students' essays, the English teacher has to follow the student's train of thought in order to make actionable comments. But from heavy duty assignments like proofs and essays, teachers learn precisely what students don't understand—or do, as the case may be.
Old-fashioned sentence outlines are also great revealers. Students prefer the bullet points of a topic outline, of course, because they can bluff their way through an outline check or turn in something when they haven't really started thinking about their topic. But when ideas aren't connected with transition words and complete sentences aren't available for examination, the teacher can't really follow the student's train of thought. When a sentence outline has gaps and misunderstandings, the teacher can direct next steps.
One of my favorite lessons in my composition classes is an exercise in understanding how sentence outlines work. I find or construct a fairly complicated sentence outline of a research topic, cut the sentences into strips, remove the numbers and letters, and assemble sets of these sentences, all jumbled up. Students form groups, and I hand each group a set of the sentences. They spend the rest of the period figuring out the outline based on logic and the clues provided by transition words. Then, of course, I require them to construct their own sentence outlines so I can track their thinking as they work through the research process.
And when I really cast my thoughts far back into the recesses of my life in an American classroom, I remember sentence diagramming. I'm not advocating for bringing that back necessarily, but I do have to say, faulty diagrams revealed exactly what students didn't understand about sentence structure.
Whenever a performance is required, whenever students do something, we see thought in action: Their level or degree of understanding is immediately evident in the performance of a musical piece, the execution of an art project, the preparation of a recipe, the construction of a garment, the reassembly of an automobile system. The problem is, when what we seek to understand is a mental process, it's not so readily visible. Sketch notes help. Graphic organizers and graphic summaries help. Models and puzzles and other manipulatives do the trick.
But what else? Respond to this post and tell me about the activities and processes you employ to make thinking visible. I'd like to put together a gallery of thought-tracking possibilities.
And if you purchase some of those neon markers? Be sure to get some Windex and a roll of paper towels, too. You'll need them! This activity is addictive!
About the author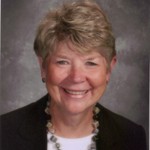 An English teacher for 37 years, Sarah has taught in secondary schools in Wisconsin, Connecticut, and Indiana.
For many years, she served as the English Department Chair at McCutcheon High School in Lafayette, Indiana, and is now a full-time Instructional Coach for her district. Honors include the Milken National Educator Award, the Eli Lilly Teacher Creativity Fellowship, the Irena Sendler Award for Holocaust Education, and Purdue University's Crystal Apple Award. http://www.sarahpowley.wordpress.com Additional articles by Sarah Powley.