Thinking Made Visible by Sarah Powley
By Sarah Powley, Education Coach
Tweet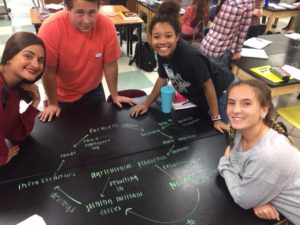 Used to be, when students would stare off into space, we wouldn't know what they were thinking about. Now, with all the screens in front of their faces—and ours—we at least know the topic of their attention.
But what are they actually thinking? How can we get inside their heads to discern their thought process? If they're on the mark, terrific! But if they're stuck, how can we know?
My colleague used washable markers and the tables in her science lab to do just that: Get inside her students' heads.
We were co-teaching a lesson in AP Biology about food insecurity in Afghanistan—the primary and secondary causes and the various effects interruptions in growing and marketing food have on the health and well-bring of the people in that war-torn country. It's a complex topic with complicated connections.
So after we set the stage by introducing new vocabulary, after we had shown a short film about microcredit and talked about food aid from foreign donors, after we'd discussed the topic as a group, we distributed a paper for students to read and a guided reading activity to accompany it. The weekend homework was for students to read the paper, which proposed some solutions to the problem, and think through the questions on the guided reading sheet.
Sure enough. Come Monday, several students hadn't read the paper. Even more tripped up on the questions because what was called for weren't easy, fill-in-the-blank, seek-and-find responses. The students had to think about what they had read and make connections. It was a tough assignment. The reading itself was daunting.
But what my colleague did next was not to berate the students or express exasperation. Instead, she put them in groups and asked them to draw the connections, as they understood them, between the causes and effects of food insecurity–right on her lab tables.
As the students sketched out the author's ideas, my colleague and I were able to move from table to table and with a glance, see where thinking had gone awry, where gaps in understanding occurred. When we'd point out the exact place where the students had not understood, we could sometimes hear sucked-in breaths or audible exclamations. "Oh! I get it now!"
For us, this exercise was thinking made visible. Because of it, we could lead students to a better understanding of what had previously been confusing or even mystifying.
I began to think about where else thinking is visible and what kinds of opportunities teachers construct to make that happen. After all, a check for understanding isn't meant to be a check for recall. It isn't just about getting the right answer. A check for understanding is supposed to clue teachers in to what our students actually have comprehended or taken away from a lesson.
In math class, teachers ask students to "show their work." That's how the teacher can tell if the answer was a lucky guess or the product of a thoughtful approach to the problem. If the teacher can see the steps the student took to arrive at the solution, the exact point of un-understanding is visible—just as in the table talk my colleague and I conducted with her students. In fact, math teachers look at "showing your work" as a road map. The point where thinking breaks down is the precise place to apply the red pen—not just on the answer itself. Or, in the case of the teacher in this video does, apply the yellow highlighter.
Geometry offers the same potential for revelation of thought. Proofs are mental processes revealed. In evaluating a proof, the teacher has to follow, step by step,