Night in Rwanda – Teaching About Genocide
By Sarah Powley, Education Coach
Tweet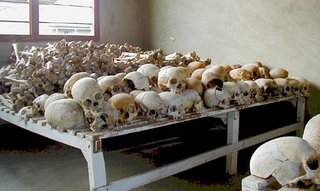 Genocide–and the imperative to teach students about the consequences of discrimination and intolerance. The Rwandan genocide of 1994 began in the dark of the night on April 6, 1994, so April is the time for teachers to remember not only the Rwandan genocide, but the Holocaust in Europe and other genocides all over the world.  In this essay, Sarah Powley urges all educators to make time to teach their students about the necessity for kindness, inclusion, and embracing diversity. The essay discusses the author's approach to this topic in her 9th grade classroom.
I have taught Holocaust literature—Night, The Diary of Anne Frank, The Children of Willesden Lane—for many years. But I cannot teach these books in the way I usually teach literary works of art. Granted, these books are not fiction, so I am spared having to chart the plot line. I know there are motifs and images and definitely themes—but my point has never been, in teaching any of these accounts, to reveal the writer's technique. Putting such a text under the microscope of literary analysis would distance the students from the story, and I want them to hold close the visceral response they all have when they read, say, Night. Discussing Wiesel's imagery as if he had sat down deliberately to craft a work of art instead of to tell his horrifying story to an unconscious world would be—to my mind—a sacrilege. As story, his journey through hell penetrates our unconsciousness and sears our souls. Ironically, what I could do would destroy its impact, and that I cannot do.
But the Holocaust must be taught. Genocide must be admitted and discussed. Here is what I do instead.
Most students, when they first learn about the Holocaust, do not immediately see the connection between the tragic events of WWII and their own lives in the 21st century. They think that genocide is a distant horror. But we, the adults, the teachers in the room, know about Darfur, where genocide is so fresh. We know about Cambodia, Bosnia, Rwanda, and other places that in recent history have served as the stage for mass murder.
I have been to Rwanda. My first trip there, in 2006, was undertaken specifically to study the genocide of 1994. I wanted to understand the causes and the chronology of the Rwandan genocide to see how it compared with the unfolding of the Holocaust. I learned very quickly that genocide doesn't just happen. In fact, it follows a pattern, one that I have taught to my students ever since. (I am indebted to Gregory Stanton at
www.genocidewatch.org
for his work in revealing this pattern, though I simplify it somewhat for 9
th
graders.)
Genocide always begins with prejudice. A power group, for a variety of reasons, marginalizes, discriminates against, isolates, and ultimately demonizes a minority. The climax is the killing, followed by a strange denouement, denial.
My students read Night first. They read it without a lot of preface, and they are full of questions during the three short days it takes them to finish the book. By the end, they want to know more, and it is then that I send them on a research mission. The students work collaboratively to construct poster essays that will reveal the pattern of genocide. They draw straws to form groups, and I give each group a title for the poster—the name of a stage in the pattern—and a few keywords to get them started. For the next several days, my room resembles an art studio—construction paper, scissors, rubber cement, watercolors, and magic markers dominate the landscape. Kids cluster around the tables, lie on the floor. They labor over their posters, [continued on page 2]