National Treasure: What Critics Need to Know About Teachers
By Sarah Powley, Education Coach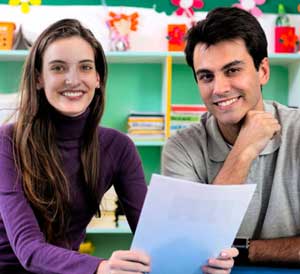 It's fashionable right now to blast educators, to focus on data-specific measures of effectiveness, and to prescribe corporate take-overs for failing schools. The critics say "failing schools," but that's code for failing teachers. The critics ought to come with me when I am in a school in my role as an instructional coach. 
When I enter my colleagues' classrooms, I am quickly swept up by the lesson—enthralled by the teacher, captivated by the content, and excited to be on the other side of the desk, learning.
In the past month, here are some of the places these fabulous teachers have taken me:
·         To Austria in 1877 when two men stole Haydn's head from his grave for analysis by phrenologists. Indeed, pseudo-scientists found the "music bump" was significantly developed—but it was nearly another century before Haydn's head was reunited with his body.
·         Out on the open seas with the commander the Pequod, Captain Ahab, in mad pursuit of Moby-Dick, the great white whale who had taken his leg.
·         To a 1940s wedding, where the bride wore a dress she had made of parachute silk: the tight-fitting sleeves  were pleated at the elbow so she could move her arms, and the neckline was high, as modest as the times.
·         To Versailles with Wilson, Clemenceau, Orlando, and David Lloyd George, hammering out the Treaty that ended WWI but set the stage for so many more 20th century conflicts.
·         To the Middle East—via computer and a stunning visual from the London Times—to learn about the Arab Spring. 
Here are some other things I have learned—or relearned, as the case may be:
·        How to figure percents (6th grade math)
·         How to make a coiled basket (7th grade art)
·         How airbags work (a high school chemistry lesson in stoiciometry and the gas laws)
·         Seven characteristics of a folk tale (6th grade English)
·         Why artists make still life drawings—and how to do it (8th grade art)
·         How to make ice cream in a plastic bag (8th grade science)
·         How the metric system works (7th grade science)
Over and over and over again, I am impressed by the good teaching I see—and the more I see, the more frustrated I become with the voices of people who haven't been in a classroom in a very long time—or perhaps haven't even taught a day in their lives. Some of the best teachers in the world are at the front of the classrooms I've visited.
Every good lesson has a story arc: a beginning, a middle, and an end.
Some teachers pique their students' interest with a question: When will the force of the water from a fire hose be stronger? When it's on the up side of the parabola or the down? 
Some do it with a demonstration: An art teacher I recently watched gathered her students around her to demonstrate still life drawing. She talked out loud throughout her demo, questioning her kids about why she was doing what she was, reminding them of what they already knew, and prepping them for what they soon would do that was new.
Then they set off to do a still life on their own.
Others tell a story (like the one about Haydn's head), or read aloud (These aren't always English teachers—reading aloud is how the airbag class started!). They hook their kids and then jump into the lesson.
Sometimes they use "props"—like several teachers I've seen who have individual whiteboards for writing down answers and holding them up so the teacher can gauge the class's understanding—or popsicle sticks and clay to make prototype chairs and tables—or crazy assortments of objects all spray-painted white (in the case of the still life drawings).  Sometimes they send students to the Internet to find a specific answer or just to find out what they can about a particular topic. 
In a Family and Consumer Science class (FACS), girls and boys were dressing [continued on next page]