Hail to the Chief! Let Them Learn to Lead!
By Robert Rose
Tweet

HAIL to the CHIEF!
I loved it. I watched as she assigned her team to their positions. Patsy was one of the smallest girls in my class. Her parents came from Cambodia and they taught her to be quiet, courteous, and thoughtful of others. She was calmly, confidently pointing to her teammates exactly where each was to play. There were a few unhappy children, but Patsy ignored their sad or angry faces.
Teresa, barking out orders like a drill sergeant, was a large, chubby, Hispanic girl who loved to help her teachers. She used to cringe when other children were rude. Her team was up and she firmly placed them in a batting order. Like Patsy she was not visibly responding to any comments from the more aggressive children.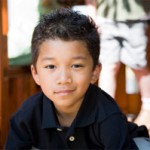 Almost all of the children followed Patsy's and Teresa's directions and I watched proudly as these two, basically timid, shy, girls, demonstrated good leadership abilities. They did listen to the other children's requests and tried to be fair, but they also knew they had to get their teams ready quickly or face the music from me.
This was not the way they had acted the first time that each had been a captain. They had been overwhelmed, helpless, and fighting tears as the aggressive children had taken over. I waited a few minutes and then I told the children to follow their captain's orders or I would either have them take a lap or not let them play that day.
I had worked hard to get all the children to learn to be better leaders. In the beginning of the year there was a lot of arguing, yelling, and threatening directed towards whoever was the captain. Each week I alphabetically selected three captains. Each picked his/her own team.
I have done this with first graders on. When I hear about how our teenagers cannot make good decisions, my answer is, "Of course not, they never had the chances to gradually learn how to make decisions or to lead. They have not been placed in protective situations in which they are required to make decisions, live with the consequences, and then are helped to learn from them."
Children need to start early to be given real power and responsibilities. When a first grader spilled paint, he was expected to clean it up. I had to teach him the right way and it took extra work on my part, but it was worth it. After a few weeks I could let my children do things without my intervention or help. And, they often would help each other, which is another useful, healthy skill. I didn't expect perfection from them so, after they went home, like with a clay project, I usually improved on the job they did. They gained confidence from being responsible and empowered.
The first time most of the children were given any kind of leadership task they were frightened and uncomfortable and the other children made the task more difficult. I would intervene and tell the children that every one of them would be a leader in various tasks and that if they expected others to help them and follow their directions that they should help no matter who was the leader. Some had to experience unpleasant consequences for not cooperating with the group leader before they would do as their captain requested.
As mutual respect emerged from giving them power and expecting responsible behavior and "training" them by setting up the situations and explaining what was expected, their confidence and skills improved.
One kindergarten teacher who had seen the children misbehave the year before in her neighbor's class, watched for an hour as the same children now in my class corrected their math themselves, helped each other, and seamlessly moved into painting activities without squabbles or problems. She asked me how I did it.
"I believe and expect they can do it, plus I train and give them opportunities to be the boss. Like any learning it takes time, effort, organization, and a belief that this is one of the most important things these children need to learn." Patsy and Teresa are living proof.
So, hail to the chief and let each learn to lead!
_________________________________
Dr.Rose has taught every grade in four major school districts in So.California.
He has been successful using an eclectic and complex approach derived
from solid research in the sciences. His web sites imaginativecurriculum.com and YouTube.com/icdrrose videos are filled with his books, workbooks, and videos that challenge the status quo. He has attempted to teach based on the Constitution and mutual respect and it has worked.
For forty-five years in a yours, mine, and ours marriage, he enjoys a family that is demonstratively affectionate and loving.
His latest book, Abuses of Power in Education; Challenging Practically Everything, Outskirts Press, 2008, is one of the main sources for the ideas he will be explaining in his blogs. He believes that students, teachers, parents, and administrators need legal power and protection to be able to have the freedom to do their job most effectively. No person or group should have unlimited power and that's why balance is as important as autonomy.