L.I.G.H.T. B.U.L.B. Moments for New Teachers
By Perry Binder, J.D.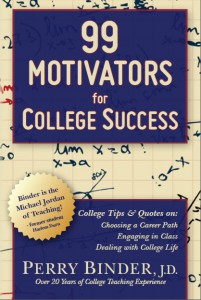 Perry's new book, 99 Motivators for College Success, is available on Amazon or his blog, 99 Motivators.  Perry is a former practicing attorney who blogs for The Huffington Post College section, and teaches college business law classes at Georgia State University in Atlanta, Georgia and in Florence, Italy.
I never dreamed of being a college professor.  Does anybody?  When my third grade teacher asked us about our dream job, Molly said an astronaut; Evan, an actor.  Perry: "Obtain a terminal degree and lecture on legal morasses."
Every student wants a good laugh, I think.  Humor can be found even in the most stressful situations.  For example, I tell students that I can't offer legal advice.  But that didn't stop "Steve" from calling me after class in a panic: "The judge gave me ten days for speeding; they're taking me away!"  So that night, I drove to the county jail, where the innkeeper ushered me into a tiny drab room facing glass.  Steve appeared on the other side, looking weary and wearing an ugly orange jumpsuit.  I never practiced criminal law, so I just put my hand up to the glass and spread my fingers apart because I saw that done on TV. Steve finally smiled and put his hand up to mine.  He told me what happened, but all I could do was stare at our mitts and think: "Hey, this TV hand thing really works!"
While Steve's dilemma was no laughing matter, I use that story on the first day of class to set the tone for our semester: Understanding the law is serious business and applied unequally to young college students without counsel.  But we will laugh and learn a lot together.
Someone recently asked me how I can teach the same subjects for twenty years without getting bored.  My response: Do you think that all recording artists get bored singing the same songs for the past twenty years?  It may be the same song, but there's a different interpretation and a fluid audience each time.  Likewise, my class material is similar from year to year.   Meeting different students each time is the secret part of the equation which keeps things lively and exciting. While the structure is predictable, every semester has energy and a life of its own.
A professor or teacher's job is to keep things fresh and provocative, regardless of mood, subject, or student engagement.  Naturally, my curious students ask me why I don't practice law anymore.  The best answer I can come up with is an analogy from the movie, Good Will Hunting, when psychologist Sean Maguire (played by Robin Williams) is discussing personal relationships with his patient, Will. (Matt Damon)  Will just had a perfect first date with Skylar (Minnie Driver) and he tells Sean that he's never going to call her again.  To which a surprised Sean inquires why.  Will explains that the date was so perfect, that he didn't want to ruin that memory or image, and risk an imperfect second date.  The psychologist smiles and reminds his young patient that he's not so perfect himself, and neither is his recent date.  The trick he says is to take a risk and discover whether you're perfect for each other.
Teaching is not a perfect profession to some people, and I know I'm an imperfect teacher.  But we're perfect for each other.  I've learned, changed, grown, and gotten back more than I bargained for in many courtrooms and classrooms.
Today, I am refreshed and ready, but already messed up on the first day of the semester in front of 120 college students.  While I remembered to bring the syllabus, I forgot to bring their outline for the first unit.   Maybe I have an overactive imagination or a hypersensitive ear, but I could've sworn I heard a student mutter under her breath: "This professor sucks!"
Now let's get motivated, but first, my student Steve's verdict: I referred him to a criminal defense lawyer, yet Steve still spent three days in jail for speeding.  It would've been zero if he had an attorney at the outset, which shows that maybe nothing is funny about the law after all!
Perry's L.I.G.H.T. B.U.L.B. Moments for New Teachers
L. isten to all learners
I. nspire them with real world discussions
G. ive hope to everyone
H. eap compliments on students for quality work
T. each to your strengths
B. e available at all times, whether in person or electronically
U. nderstand that students lack your life experience or knowledge
L. earn from your learners
B. e willing to walk in your students' shoes
Have you found your light bulb moment?
Excerpt:  99 Motivators for College Success
© 2012 Perry Binder, LLC
Also by Perry Binder:  Transform Your Classroom By Unlocking Your Rubber Room