By Barbara Blackburn
Do you have students who are not living up to their potential? By shifting responsibility for learning to students, students take control of their learning, which increases engagement, and in turn, increases student achievement. There are several characteristics of student ownership of learning.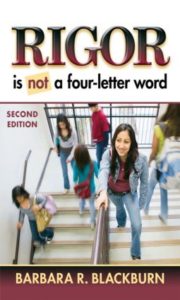 By Harry K. & Rosemary Wong
No need to search all issues of Teachers.Net Gazette for the exclusive "Effect Teaching columns by Harry Wong and Rosemary Wong. You have free access to their hundreds of classroom management articles, right here!

By Todd R. Nelson
As I was young and easy, my childhood was ruined by beautiful writing and high-minded values and verbal expression, and I blame it all on poetry. For years, my parents left this dangerous, unstable writing lying around the house in plain sight. It was, alas, the era before parent advisory …

By Abigail Flesch Connors
Recently, a team of archaeologists in the Dagobah system discovered an ancient parchment. Estimated to date from at least four million years B.C., or as researchers stated, "a long time ago, in a galaxy far, far away," it is written in a language resembling a clumsy and annoying version of …

By Teachers.Net News Desk
Check out these books by Todd R. Nelson…entertaining writer, columnist, progressive educator and school principal!

By Susan Fitzell
13 tips for making the teacher-paraprofessional a smooth-working team!

By Abigail Flesch Connors
Science, technology, engineering, arts, and math–STEAM–these explorations are crucial for laying a solid foundation for later learning. In this book, discover 100 activities that let children ages 3-6 explore the science of music and sound using materials easy to find for a preschool classroom.

By Teachers.Net News Desk
You're probably familiar with the periodic table — you may have even memorized all the elements. But do you know how they're used outside of chemistry class?

By Ranu Roy
Knowledge of NOS encompasses adequate understanding of science as a body of knowledge that is tentative, subjective (theory-laden), creative, imaginative, is based on empirical evidence, a product of observation and inference and culturally embedded. Such knowledge that can be explained using theories and laws is necessary for a scientifically literate …

By Teachers.Net News Desk
Johnson wrote Code 7 because unlike any other time in our history, he believes we can help our upcoming generation take charge of their lives to better the world, regardless of their financial circumstances, educational resume, family background, or cultural or religious upbringing. Code 7 provides a road map for …