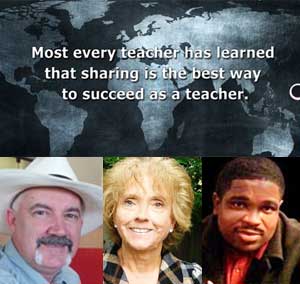 Sharing can take place in many ways, from formal professional learning communities to various websites on the Internet, from informal exchanges at school to educators sharing at conferences.
Through the decades, we have been most fortunate to have people share with us. At the end of our presentations and at the end of our publications, we encourage people to send us their classroom strategies and anecdotes of their life. The multitude of contributions to these columns and our books started out as people who shared with us their stories. We are most grateful for those who have shared with us, such as the over 100 people who shared their ideas and are listed as contributors in the front of our new book,
THE Classroom Management Book
....

By Barbara Blackburn
Praise is an effective tool to help motivate students. However, this doesn't mean to make random affirmative comments. There's a huge difference between mere catchphrases and true praise.

By Sarah Powley, Education Coach
Every veteran teacher has at least one horror story about a conference gone awry. I know I do. Admittedly, the parent is there to find out about you as much as to find out about his/her child, but being prepared ahead of time will help you avoid sticky or empty …

By Leah Davies, M.Ed.
Before educators can help students cope with their problems and be ready to learn, they must first take time to care for themselves. The following are ways educators can take control of their lives and manage their own stress so that they will be available to assist their students.

By Teachers.Net News Desk
When I first started working a chess club. I went through all the motions my older brother did when he taught me the rules and objectives of the game, and it was easy. This is the board, these are the pieces, this is the way the pieces move on the …

By From the Editor's Desk
The traditional game Doggy, Doggy, Who Has Your Bone? is a good activity to use as a whole group time-filler or during a seasonal celebration and it offers many opportunities for incorporating facets of the curriculum, vocabulary development and seasonal relevance.

By Teachers.Net Community
Philosophically, I agree that missing recess for extra help with academics is not a great thing. But how do we solve this? Let's face it, there aren't times when kids are basically sitting around doing nothing to use instead. What DO we do?

By Internet Scout Report
For the past 40 years, Doctors Without Borders has made headlines and offered hope by "go[ing] where the patients are." Few know the full extent of what this inspiring not-for-profit actually does.