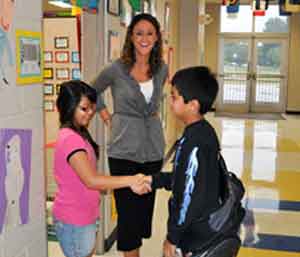 Greeting students will have the most immediate impact on your day or each class period. A sincere greeting establishes a positive climate for the classroom. You experience greeting people in daily life. You are greeted when you visit someone's home or business, board an airplane, enter a place of worship, or just see a friend. A greeting is the first step in making a connection.
In the business world, the importance of a greeting is understood. It positively effects the actions of those greeted. When you walk into a restaurant, you are immediately greeted by a confident, smiling host or hostess. The way you are greeted is a large factor in the art of hospitality, which is how restaurants make their profit. Many restaurants spend much time training their staff on this very topic. A good host will make you feel welcomed, at ease, and taken care of with a smile and few simple words. Within your first few seconds in the restaurant, you are in a relaxed and pleasant mood.
Your wait person welcomes you and takes care of your needs. Your perception of this greeting will largely influence the amount of your tip. Even if the kitchen botches your order, if you perceive that your wait person was a "nice" person, your tip will still be generous....
By Todd R. Nelson
It's October, but it's still a new school year for us all: teachers, parents, and students. For some it's also a new year in a new school—or the very first school year ever, if you're just getting started in Kindergarten or preschool. At any rate, we're all driving "this year's …
By Bill Toth
I just retired, after 31 years of teaching, most of it at the middle school level. I came up through and was trained in the "middle school concept," and still deeply believe in its philosophy and intent. No one needs to tell me that I am one of a vanishing …
By Hank Kellner
I suppose that if he were alive today, Marc Antony would boot up his computer and get his message across to the thousands of "friends" he'd have via Facebook and other social networking sites. But perhaps, like Mara Dukats, Ph.D, who currently teaches English, Creative Writing, and Humanities at Lake …
By Dr. Marvin Marshall
Monty Roberts is a famous horse trainer–the model for the Robert Redford film, "The Horse Whisperer." The trainer conducts demonstrations of how he trains wild mustangs. Monty grew up in central California and, at age 12, started observing them. He now puts his observations and experiences with horses to work …
By Teachers.Net News Desk
How you and your students "connected" and how has being connected enhanced your teaching and your students' learning? Are there downsides to the current level of connectivity?
By Teachers.Net News Desk
Enjoy this terrific collection of autumn and pumpkin themed poems and piggyback songs for preK – primary grades!
By Teachers.Net Resources
Seasonal fun without the Halloween trappings. Break away from the same old plastic masks and gooey candy with these terrific ideas!
By Bill Page
Learning spoken words is a life-long interaction experience and initially depends on those with whom one interacts. Spoken language is learned through its use; that's why toddlers learn so quickly. Written vocabulary, grammar, and spelling are learned, mostly incidentally, through reading and interacting with media. The half million words available …
By Teachers.Net News Desk
All month we'll be adding interesting Tweets posted by teachers, for teachers on Twitter. Tweets will contain wisdom, tips, apps and great links, so check back often during the month! New Tweets will be added to the top…
By Nicole Correia
I had been raised with the notion that I was special, quite easily from the first grade I specifically remember the moment when I realized those around me considered me to be intelligent. Once I entered university, however, I quickly realized that the rhetoric of my importance had been dangerously …
By Teachers.Net News Desk
Phonemic awareness has, for many years, been one of the buzz phrases in beginning reading instruction. Most of us are totally aware that it's an important aspect in the learning process but I continue to be troubled by the processes whereby children are expected to learn to segregate phonemes within …
By Leah Davies, M.Ed.
The following quotes may be used in a variety of ways by both teachers and counselors. One idea is for a thought to be posted, read, and discussed at the beginning of each week. It could then be read daily with the students. At the end of the week ask …
By Susan Fitzell
The structure of middle and high schools is very different from that of elementary schools – this means that the structure of RTI, too, must be different. These 12 tips will help teachers implement RTI in the high school setting.
By Teachers.Net News Desk
The Discovery Education website serves as a repository of instructional materials for educators seeking to help their charges learn about everything from the solar system to genetically modified organisms.
This particular lesson plan deals with the science and technology of genetic engineering and it is intended to be used by advanced …
By Ron Victoria
October is . . . National Breast Cancer Awareness Month, National Crime Prevention Month, Family Health Month, Fire Prevention Month, National Aids Awareness Month, And National Family Sexuality Education Month.
October 1 is … World Vegetarian Day and Magic Circles Day
October 2 is … Name Your Car Day …