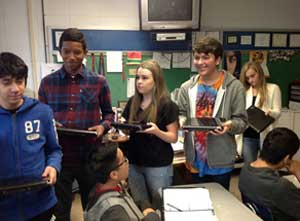 Technology surrounds us, and its use is integrated in our curriculum on an escalating scale. In many schools and classrooms, the students bring their own devices (BYOD). Other schools have various portable electronic devices provided in the classrooms. It is up to the teacher to ensure that the electronic devices are correctly obtained, carried, and returned to the storage location.
The use of equipment is not new to the classroom. In the past, we've written a column on "Dispensing Materials in Fifteen Seconds." From building blocks in kindergarten classrooms to digital microscopes in high school science classrooms, from tangrams in math classrooms to soccer balls in physical education classrooms, each piece of equipment is valuable and needs to be treated as such. The teacher must have procedures in place so that each piece of equipment is obtained, used correctly, and returned to its proper place for others to use.
You almost never hear of a microscope being stolen or broken. The procedure of how to get and carry a microscope is ubiquitous in every science classroom, and this procedure is no different for getting and carrying an electronic device....

By Susan Fitzell
The number of immigrant children in American schools is quite literally growing by the day. It's estimated that children of immigrants represent 25% of the K-12 population in the United States and that number has jumped dramatically in recent years. Here are some strategies that will be helpful in supporting …

By Barbara Blackburn
In education, we spend a lot of time labeling our students, don't we? We use gender, ethnicity, test scores, and family income level, just to name a few categories. But rather than using this knowledge to build up students, too often we use it to tear them down. Although we …

By Todd R. Nelson
A whimsical tribute to you, Teacher.

By Teachers.Net News Desk
Most of us who have been teaching for some time need periodic reminders of the important work we're doing in the classroom. It's easy to become insensitive in our relations with our students and let automatic pilot take over. Also, since our salaries usually don't reflect the value of what …

By Teachers.Net Community
A tantalizing turkey chili recipe from the Teachers.Net Recipe board!

By Internet Scout Report
The Jigsaw Classroom, developed by University of California-Santa Cruz professor Elliot Aronson, and tested repeatedly over the past three decades, seeks to decrease racial conflict among students and simultaneously promote better learning.

By Barb Stutesman
Once again, Barb Stutesman posts a plethora of pithy quotes and bits of wisdom, selected especially with educators and students in mind.

By Teachers.Net News Desk
Check back often during the month for new announcements and opportunities!