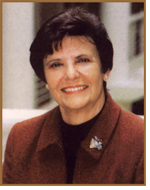 Carolyn M. Evertson is considered by many to be THE authority on classroom management. She pioneered classroom management as a unique field of study and highlighted the importance of the beginning of school as a critical time for creating positive learning environments. She has written two books on classroom management, Classroom Management for Elementary Teachers (9th ed.) and Classroom Management for Middle and High School Teachers (9th ed.), and has authored more than 100 book chapters, journal articles, monographs, and reports. There are more than 1,200 citations to her work.
She created and directed the Classroom Organization and Management Program (COMP), a national program for in-service teachers on classroom management. This was a 6- to 18-week training program on classroom management and teacher effectiveness.
For decades, her work has influenced how classrooms are managed and defined. She says the key word in her definition of classroom management is productive - supporting and developing orderly and productive classroom environments is the foundation of good classroom management....

By Deborah Granger
"My students do not focus. They talk too much in class. If only they would pay attention, they would learn!" This is a common cry from teachers in schools today. Student engagement is one of the most important goals of an effective teacher. So what …

By Sarah Powley, Education Coach
This was a spectacular class: Specific skills were learned, character traits like self-reliance and independence were honored and nurtured, and the instruction the teacher provided and the procedures she had instituted allowed for students to progress at their own rate and take responsibility for their learning. I've seen art …

By Leah Davies, M.Ed.
Writing unique and meaningful report card comments takes effort. If only negative statements are written, the parent may feel overwhelmed and thus be unable to help their child. Here are Leah's best tips – and great examples of meaningful report card comments, with tips for composing your own.

By Teachers.Net News Desk
We've rounded up some of the best tips and articles you'll find anywhere on the topic of Parent Teacher Conferences. Please add your ideas in the Comments section below.

By Teachers.Net Lesson Bank
The Crucible, Native Americans, American Revolution…MORE great lessons for November.

By Teachers.Net Resources
Approaching issues of classroom management and discipline is much more than what teachers do when children break rules and misbehave. Rather than simply reacting to problems, we need to establish an ongoing social curriculum, we need to encourage children to participate in community, we need to teach self-control, and most …

By Teachers.Net News Desk
24/7 we're on the lookout for Tweets you wish you'd spotted! Keep an eye on this page for daily updates containing great links and 'teaching tips.

By Barb Stutesman
A month of quotes for your own inspiration or to include in your blog or newsletters!

By Teachers.Net News Desk
Your participation is invaluable! Upon completion of the survey you can chose to be entered into a sweepstakes for a chance to win a $25 gift certificate to reallygoodstuff.com.

By Teachers.Net News Desk
The goal of the Indiana STEM Network (ISTEM) is to help Indiana become a national leader in student academic achievement in STEM disciplines. This section of their well-thought out website provides a wealth of information on excellent lesson plans crafted by their team of experts. Currently the site has over …