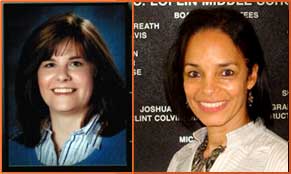 If you are an administrator or staff developer and you want to teach classroom management, everything you need is in this article. If you are a teacher and three months have passed since the new school year began and you are wondering if you will make it through this school year, take heart and see how far and fast a first year teacher has progressed in her career. Everything you need for making progress in this article.

By Dorothy Fox
To tweet or not to tweet? Is that the question? Yes, it has been a real question for many
educators like myself, for a while now. After trying to build my Personal Learning Network
(PLN) for about 2 years now, without twitter, I decided this year to take the plunge.

By Atifa Manzoor
Stakes are high. Many will be on the sidelines to analyze your every move and question your every decision, while judging the quality of your performance. But your own determination, passion, and skill will be only a small factor in determining the end result. Your success will be based on …

By Karen Cox
From a cardboard paper roll forest to an owl listening activity, Karen comes through once again with high-quality activities for young children.

By Tracy Schutz
You know the kinds of students I mean: the ones who, unfortunately, live by their alphabet acronyms: LD-Learning Disabled, ADHD-Attention Deficit Hyper Activity Disorder, and the list goes on forever and day from there…

By Kari Wilson
I don't know the solution to the big problems in education today, but I do think a lot about what I need to do to reach all kids in my little
corner of the world. In addition to students with a wide variety of learning challenges and needs, I have …

By Teachers.Net Community
Oreo Turkeys – Cute, and looks easy, for kids and young-at-heart adults!
If you teach or have your own little kids, or maybe your older students would like to make them for younger buddies, here's a cute food craft spotted on teaching-tiny-tots.com: Oreo Turkeys

By Teachers.Net News Desk
We're looking for a few great blog posts to feature in the December and other future issues of Teachers.Net Gazette.
If you blog about issues in education, we'd love to consider your well-written commentary, teaching tips, classroom management ideas, effective lessons, etc. for the spotlight in the next issue of Teachers.Net …

By Teachers.Net News Desk
Developed by the American Folklife Center of the Library of Congress, this site offers visual and written testimony about the experiences of United States veterans ranging from those who served in World War I, to those who served in the first Gulf War.

By Teachers.Net News Desk
There were hundreds of thousands of women who worked in American defense plants during WWII, and their real stories are fascinating.

By James Wayne
Writing prompts mixed with history and pop culture will inspire your students to compose!

By Susan Fitzell
Have you ever worked with another adult in the classroom and felt as if you were both on different planets? Here are three articles full of tips and strategies that will help teacher and paraprofessional form a more perfect and productive union.

By Randall Fujimoto
The author details his plans to make game-based learning an integral part of curriculum.

By Teachers.Net Resources
Search 4500+ lesson plans by topic, keyword, grade level, subject!
Just go to the submit form, type in the topic for which you need new lesson ideas and VOILA!, you'll be greeted by a wealth of teacher-tested lesson and activities.