5 Ways to Bounce Back After a Bad Day
By Mike Reading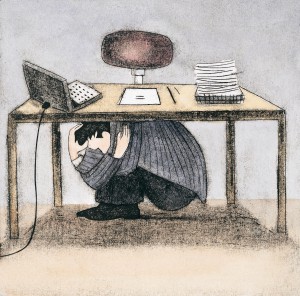 As teachers we are all prone to having a bad day at some stage! The latest statistics on teacher attrition say it all… a newly graduated teacher lasts on average 5 years. In stark contrast another sobering statistic tells us that teachers only really start to become effective and resilient after 5 years. If you a new teacher the way you bounce back from a bad day will determine which statistic you will become. For those of us who have past the five year mark the way we handle bad days will determine our level of job satisfaction and ultimately our effectiveness as teachers.
It seems to me the more I travel and speak to teachers the more I realize there are two issues emerging that both stem from the same problem. On one hand we have teachers who start out passionate but burn out within a few years and leave the teaching profession (the latest statistic is that on average a new graduate lasts five years). On the other hand we have teachers that make teaching their career, but over time their hearts become hardened due to the pressures.
So what can we do to guard out heart so that we don't end up burning out or becoming hard-hearted?
1. Regain perspective!
Tomorrow is a new day. The worst thing about a teacher who has had a bad
day is that the students go home and don't give your lesson another
thought, yet we go home all tense and lose sleep over it. There is no
point carrying yesterday's burdens into today – today will have enough
of its own troubles without us needing to compound the problem.
That is easier said than done. So how do we do this?
2. Reflect
When you have had a bad day it is helpful to spend some time reflecting on what was the tipping point in the day went it all went wrong. By that I mean, what was the point where you lost control, or that you became aware that you had a battle on your hands. It helps to think through what were the events leading up to the tipping point.
It is a fact that 95-99% of life is made up of habits or routines. Success psychologists say that 99% of all results (both good and bad) are built upon routines. If this is true then there is a 99% chance that something in your routine is causing your classroom management problems. Now I understand that we can all have one off bad days, but if you are constantly seeing the same results you need to change your routine!
3. Refocus
What are you going to try or re-enforce? Once you have looked at your
routines what are you going to try and implement? What are you going to
change? Maybe it is the way the students enter the room. Maybe it is the
way you state you expectations up front.
The truth is there are almost an unlimited amount of things you can try,
and the only way to find out what works for you is trial and error. Now
don't go changing everything at once (that is a recipe for disaster!),
but rather use your reflection time to narrow down on what is the number
one thing you should change and start there.
4. Relate
Talk to someone who is outside the profession about something that is completely unrelated to school and teaching. One of the biggest problems I see in the teaching profession is that teachers become so myopic and insular. Teachers hang out with teachers on the weekends, all they talk about in the staff room is what this student is up to and even when they go out for a staff dinner all they do is talk about students.
One of the healthiest things you can do is talk to someone about anything other teaching or classroom management. It will take your mind off your woes and give you another focus for a while.
5. Rest
Don't lose sleep over this – your students aren't! After you have regained some perspective, reflected on your day, refocused on what you are going to do differently and related to someone outside the teaching profession get a good night's sleep. Your best chance of not repeating the dramas of today is to go back refreshed, full of anticipation that tomorrow things will be different.
So to recap the 5 R's of bouncing back after a bad day:
* Regain Perspective
* Reflect
* Refocus
* Relate
* Rest
For a free eBook on this topic as well as other free resources on teaching and classroom management go to www.teacherstraining.com.au and fill in your details.