Are You Rejecting Your Neediest Students?
By Michael Linsin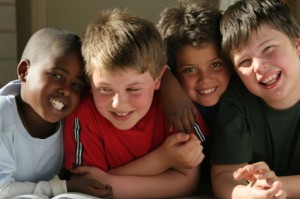 One day, years ago, a veteran teacher I respected disappointed me. Our elementary school was reorganizing due to grade level overcrowding, and two first-year teachers were hired in response.
Some of the teaching staff was asked to select two or three students each to send to the new classrooms. Evidently, no particular criteria were given in regard to who was chosen, because this teacher confided in me that she was considering sending a boy named Robert to one of the two new rooms.
Robert was a behavior challenge for her, and I told her I didn't think it was right to send him.
A week later I was walking by one of the new classrooms while the students were lining up outside the door. It was a chaotic scene, and sure enough, Robert was in line with his hands wrapped around the neck of the boy in front of him.
As the teacher was pulling Robert off to the side to talk with him, I perused the line with curiosity. It saddened me to see that her class was filled predominantly with challenging students like Robert. It was clear that some of the teachers saw the reorganization as an opportunity to rid themselves of their most difficult students.
To make matters worse, this veteran teacher's classroom consisted of lovely and well-behaved students and was a perfect environment for this troubled boy. There were numerous role models and no one to encourage his unwanted behavior.
I had known Robert for several years and could see the positive strides he had made since the beginning of the school year. Now he was being taught by an inexperienced teacher in a classroom made up of an overabundance of students who were a poor influence on him.
It was a recipe for failure.
Although kids are resilient, in cases like Robert's they're bound to feel ostracized. If you send one or more of your neediest students to another classroom because it's an opportunity to make your life easier, every student will know it. Guaranteed.
While they were sitting on a rug in front of me, I asked this new class a simple question, "Why are you in a different class now?" A girl in the front row raised her hand and said, "Our old teachers didn't like us." Many heads were nodding as she said this.
Kids are perceptive. They can look around their new class, see the makeup of the students, and know–or feel- they've been rejected.
And what of the new teacher? On top of trying to plan a whole days' worth of learning activities for the first time, she has to somehow survive the toughest class in the school. It's an awful position to be in. The new teacher desperately wants to do well and impress the principal, but she has to learn on the job to manage a class few experienced teachers could handle.
The fact is, when teachers choose to send their most difficult students to a new classroom, it can profoundly affect the students, their parents, and the new teacher. It may fix their perceived problem, but creates far more for others to manage.
I've witnessed–and I know you have too–students being moved repeatedly in the same school year. One boy was shuffled through three classrooms during his third grade year, and when a new teacher was hired to take over for one placed on maternity leave, he was immediately moved into a fourth.
Many of these students have been rejected their whole lives, and sometimes all it takes is one teacher to put them on the right path. It takes someone to say, "It stops here. I'm his teacher and I will take responsibility to teach this child and be a positive influence on his life."
Ultimately, it's the administrator's responsibility to make sure the make-up of each classroom is an equal and diverse mix. I've worked with some who go to great lengths to ensure an equitable blend of students, but it doesn't always happen this way.
If given the choice, we teachers should always keep the most challenging students for ourselves. They're the ones who need us the most. Let's relish the opportunity and privilege to make a difference in their lives.
Isn't this why we became teachers?
———————————–
About the author:
Michael Linsin is the author of the award-winning book Dream Class: How To Transform Any Group Of Students Into The Class You've Always Wanted, and writes a weekly article for smartclassroommanagement.com