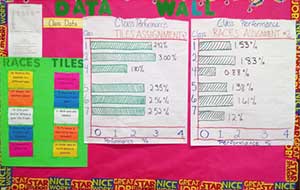 Cristina Bianchi was on maternity leave January/February of the 2014-2015 school year. The classroom procedures had been taught at the start of the school year, and she left the substitute teacher a manual on how the class was organized with procedures. She kept in contact by email and text with the sub during her time away from the classroom.
When Cristina returned, she simply had the class practice some of the procedures to reestablish them, and the class sailed along as if she had never been away. She says, "Middle schoolers don't like surprises. I find that transparency works best with them."
She acknowledges that her first years of teaching were successful because she spent time building a solid, classroom foundation with an organized structure.
She identifies the two items that created the solid, classroom structure....

By Dr. Brad Johnson
Reading is one of the most important skills for a student to develop. For an individual to have any chance at success, he needs to be able to read at a literate level. In fact, there are many studies which show a correlation between reading ability and the likelihood students …

By Cheryl Hatch
The U.S. unemployment rate varies. We have seen it as high as 10.08% to 5.5%. Regardless of the percentage, approximately 12% of that number represents families according to the U.S. Bureau of Labor Statistics. Here are some things you can do as a teacher to help your preschool …

By Teachers.Net News Desk
Faultline provides the history and science of earthquakes in an accessible fashion that is appropriate for elementary through high school students and fun for adults.

By Jennifer Davis Bowman Ed.D.
In my son's preschool class, they use weekly learning themes. For example, they used the post office, and construction (making things) as themes in the past. Next, there will be a police officer theme (community helpers). The themes are always fun, however, I have concerns that studying police may be …

By Teachers.Net News Desk
This National Science Foundation-sponsored site hosts a range of videos, games, and profiles focused on getting girls interested in STEM (science, technology, engineering, and math) subjects.

By Teachers.Net News Desk
Created by Dr. Michael Bell (former chair of the Texas Association of School Librarians) and Carole Bell (former middle school librarian and director of libraries), Infotopia uses a Google custom search to provide accesses to previously vetted websites selected by librarians, teachers, and educational professionals.

By Teachers.Net News Desk
The push to put a woman on the $20 bill got serious this week when House Democrat Luis Gutierrez introduced the "Put a Woman on the Twenty Act."

By Teachers.Net News Desk
The Van Gogh Museum in Amsterdam provides the world's largest collection of works by the talented Vincent Van Gogh. On its website, readers may directly travel to inspiring works of art like Almond Blossom and The Bedroom, or they may search the 852-item archives by selecting Collection. One of the …

By Barb Stutesman
A new crop of wisdom-filled Apple Seeds that will inspire you and your students!

By Teachers.Net News Desk
When thousands of mill workers went on strike in Lawrence, Massachusetts in the early winter of 1912 to protest wage cuts, no one knew that the the slogans, songs, and peaceful protests of these mostly immigrant strikers would inspire generations of labor organizers. This online Exhibition from the Digital Public …