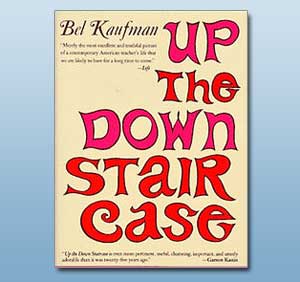 Once upon a time, in the not too distant past, Bel Kaufman, a New York City high school teacher, wrote the novel Up the Down Staircase. The book was on The New York Times Best Sellers List for 64 weeks and was made into a movie in 1967.
When asked how she wrote the book, she said it was her collection of memos, letters, and notes kept during her time of teaching. It seems her school had procedure problems with kids going up the wrong staircase. The problem was so bad that the administration had to issue a memo to teachers asking them to remind the students not to go up the down staircase.
That was almost 60 years ago. And students are still going up the down staircase and Bel Kaufman is still teaching! She will be 103 years old on May 11 and is teaching at Hunter College in New York.
How to Write a Book...

By Dorothy Rich
It's important that parents know how important summer is as a time for learning …they need to know that it's vital for children's continuing success in school. Here are ways to get that message across to parents, and specific activities you can suggest they do with their kids this summer.

By Sarah Powley, Education Coach
It was a system he'd devised for grouping students that led me into my colleague's 8th grade Industrial Technology class:
He knows, given a choice, that students will sit with their friends. So on the first day of school, when his 8th graders come into the lab setting where they will …

By Teachers.Net News Desk
The UK National Portrait Gallery, which has made its collection of almost 200,000 portraits searchable online since the early days of the world wide web now offers this digital resource page with a variety of tools to help both teachers and casual visitors better utilize its collections.

By Barb Stutesman
A month of quotes and wisdom for educators and students!