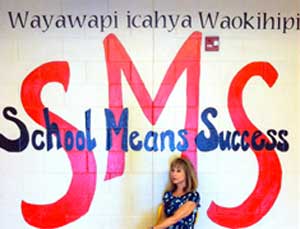 Often times we will devote consecutive columns to an effective school in the hopes of clearly painting a picture of what's happening in the school building that causes them to be so successful.
But, we've never revisited a school-until this month.
We began the school year 2011-2012 with the story of Sisseton Middle School (SMS) and will close out the school year with how the staff's dedicated efforts have paid off for the students.
During this school year, the school was notified that they had received Adequate Yearly Progress (AYP)-for the first time ever at the school. This was accomplished in two years and they credit their Culture of Consistency as the vehicle for making this happen.

By Bill Page
As you review the year, offer a final exam, determine final grades, and issue report cards, this letter I wrote to Marcmight helpclarifying your grading and especially, I hope, your attitude toward grading.

By Barb Stutesman
Every day of every year, Barb S. shares a nugget of wisdom and inspiration on the Teacher Chatboard. These quotes will entertain and inspire you and could enhance your school and classroom newsletters.

By Teachers.Net Community
Look no further for a complete roster of teacher-tested games and activities that promise to make this year's Field Day truly special for all!

By Teachers.Net Community
Throughout my career my classes have proceeded with harmony and tranquility, and I have been an exemplary model of professionalism – most of the time.

By Teachers.Net Community
In the article an innovative approach to English teaching is explored. It is in other words an alternative method of
teaching English instead of old traditional teaching.

By Teachers.Net Community

Visit http://gazette.teachers.net/gazette/printables.html for clickable links to all FREE printables on Teachers.Net!

By Teachers.Net Community
Concepts Taught: Creative writing, poetry appreciation, literary techniques
1. Have the students imagine themselves someplace — the beach, a mountain top, a city street — anywhere.
2. Have them write two lines beginning with the words "I see", and then state what they see. (ex: I see traffic lights; I see taxis")
3. …

By Dré Cleveland
I have heard many educators who work in inner city schools have similar complaints about unmotivated students who "don't want to learn" or kids who "just don't have the proper home training to behave well in school." Others tell numerous anecdotes about the children in their class who never …