Children's Business Cards – A Safety Issue
By Marybeth Ames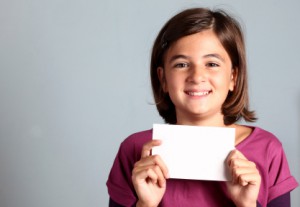 Many teachers have experienced the frustration of slowly coaxing information out of children. Teachers lament class lists with two formal first names, hyphenated last names, unique spellings, and numerical designations, and students who only recognize nicknames such as Chip, Bunny, Princess, or Buddy. Even youngsters who know all their personal information may not be able to share it during stressful events.
Teachers can make business cards for their entire class with free
downloads for business card templates and a packet of card weight
paper from an office supply store. Teachers can recommend this simple
safety strategy to parents.
Like the cards carried and distributed in the business world, a
Children's Business Card (CBC) can affirm accurate demographic and
contact data. More importantly a CBC can signal the need for
communication modifications and accommodations. This card system is a
socially acceptable method of preparing for unanticipated events.
Business cards are universally accepted and exchanged. Their
popularity is based on their efficiency and affordability. Expensive
embossed cards and large orders are not essential. Personalized CBCs
can be created with computer access. Free download options provide a
user with a frame for a basic business card. There is a large
selection of styles and graphics available to personalize a CBC.
Children love to choose their favorite colors, fonts, and pictures.
The process of typing personal data into a template is not complicated.
There is more than one way to print a CBC. One option is to print to plain paper and cut into business size cards. These can be laminated or covered with clear contact paper for a sturdier more permanent card. Another option is to print to perforated business card stock paper found in office supply departments. As information changes as few as ten cards can be printed or as many as needed.
For safety, there are situations where sharing information immediately
is advised. Keep a CBC with emergency supplies, wallet, purse,
backpack, fanny pack, car, lunch box, pockets, and by the phone.
Individually designed cards can be simple or detailed depending on the
comfort level of sharing private information. Suggested information
may include: name, street address, city, state, zip, phone (work,
home, cell), fax, birth date, age, blood type, social security number,
physician's name and number, preferred hospital, insurance
information, health insurance carrier, emergency/caregiver contact,
guardians, allergies, medication, and any communication needs.
CBCs can be used for special communication needs or simple sources of
identity, substitute teachers, field trips, extended family information, demographic changes, or health issues. Creating and using a CBC can ease the stress of providing accurate information in an emergency situation. The CBCs can inform law enforcement and community members that modifications and accommodations may be needed to ensure children and those with special needs are treated with respect and fairness.
Business cards are not just for business.