Fierce Fashion for Teachers – How to Dress Professionally on a Budget
By Maggie Carranza
There are ways even cash-strapped teachers dress can dress professionally – and look fashionable – on a budget!
Teachers are to dress professionally, yet with a teacher's salary, it's sometimes difficult to accomplish. It is evident some teachers lack a sense of style; either because we cannot afford expensive clothing or lack of time to shop since our career is so demanding.  It's a little complicated, but teachers: we can do it! Many of us have acquired an extensive wardrobe throughout the years by going to discount stores like Ross, TJ Maxx, and Marshall's.  These stores might have clothing hanging off hangers, clothes in the wrong size section, or you might not have the patience to look through racks and racks of clothes, but great deals can be found. Be creative and see beyond the mess.
At department stores, train yourself to walk straight to the clearance rack, usually located in the back of the store.  Clearance sections are often disorganized and unappealing, on purpose.  Stores would rather have you shopping in the nicely organized and neat "full-price" section.  You can find items up to 80% off on clearance racks. Once an item is marked down, it's just a matter of time before it's marked to a lower discount price.
Pinterest has become another source for putting professional outfits together with basic pieces in our closets. Pieces like a long sleeved white shirt, black slacks, white pants, pencil skirt, cardigan, and a black dress are timeless and go well with everything else in a woman's closet. Sounds boring, but these pieces can be mixed and matched with other wardrobe pieces to create multiple looks. Go to Pinterest, type in: teacher outfits on a budget, and trendy outfits will be displayed.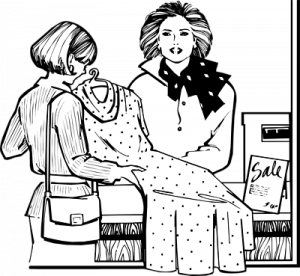 Clothes Mentor, New to You, and Plato's Closet are resale stores, buying and selling used clothes from brand name designers.  Great deals can be found at these stores for a fraction of the price.   Clothes at these resale stores have to be current in fashion and trendy to wear during that season.  Gina Gonzalez, a customer from Plato's Closet, recently purchased a Juicy Couture dress for $12.00! What an amazing deal!  Just like Macklemore says in his song, "Thirft Shop -only got twenty dollars in my pocket" yet those twenty dollars can go a long way at a resale store.
Shoes are the secret to making the outfit work.  Just like Kelly Ripa said once, "As long as you're wearing great shoes, you can show up in a burlap sack, and everyone will say, 'Hey, nice outfit!'"   As we stand on our feet all day, we need comfortable shoes.   We can still wear heels then change into flats when we're teaching in the classroom.As we stand in front of the classroom, students notice what we wear.  Avoid the "Didn't you wear those pants two days ago? Or "Miss, you need to go shopping!"  You definitely don't want to be a participant  in the show, "What Not To Wear!" as the teacher with no sense of style.  Even though our purpose is to educate, we can still look professional with the right outfit and shoes!  Looking professionally  fashionable is definitely doable!