Creating a Safe Space in your Classroom
By Linn Conway
Tweet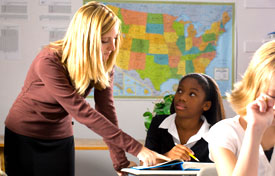 A personal reflection on methods that have worked in an inner city high school.
It seems that we wait all year for summer to arrive and within a matter of minutes it is time to start planning for the new school year.  As I prepare for the coming school year my mind turns to the students and the challenges they face.  There are the new teachers and the overwhelming madness of taking on this profession.  Then there are the veterans; some are curmudgeons who are just generally angry, the activist determined to fix the ills of education and the strong and steady who are here for the kids and try to make a difference every day.  Which group do I fall into?  Depends on the day really.  I want to be that amazing teacher they make movies about and every once in a while I am.  Mostly, however I waiver based on the day, the class, and how I am feeling.  So, how can I manage to make a difference?
The method that makes the most sense for me is to structure my classes in a manner that will create a consistent and safe place for my students.  I teach speech and theater, the performance assignments can be very intimidating for the students. Speech and Theater  is a high risk class for students.  By high risk I mean a situation that is for most students scary at best.  This includes any classroom that asks students to read
aloud, do board work or to perform.  It can be anything, really, that would cause student to potentially be made fun of or picked on by their peers.
Students have to feel safe, comfortable in their classroom and certain of their classmates.  In order for this to happen I have set up some classroom management strategies.
Set Boundaries
To set up a classroom for success you must first set clear expectations and consequences for violations.  This creates boundaries within which you all will create a safe space for instruction and learning.  Make no mistake, they will test your boundaries.  You must consistently enforce the consequences.  If you do not, you give them free reign to violate the rules at will.  Your consequences should be creative.  Don't give detention, it is boring for you and your students.  Give them a trash detail at lunch, have them do classroom service where they work with another student who is struggling.  Call home as often as is needed, most parents want to be involved, however by high school it seems like an impossibility.  Calls home work best when you also call with good news occasionally.  I find it helpful to keep in mind when dealing with parents, that this young person is their little boy or girl.  We see them as they are right now but parents have so many emotions wrapped up in this child that for them is so much more than a troublesome student.  Try not to send students to another teacher or a principal for discipline this weakens you in their eyes.
An example of how setting boundaries might work: I tell my students on the first day of class that I do not allow cursing.  This is a challenge for many of my students as many of them curse at will in their home lives.  I explain to them that the reasoning for this is that they need to have a filter for not cursing in certain places.  I also explain that I will not write them up for cursing unless it is directed at another person, but I will correct them every time I hear a curse word.  This ends up meaning I do a great deal of correcting word choice in class.  The result is that, for many students by the end of the term I no longer need to correct them, they will self-correct.  This is a huge accomplishment for them.
Respect
High School students today are not really children in the 1950s sense of the word.  Many of them are quite literally living the life of an adult.  They help manage the household, take care of and discipline younger siblings and contribute financially to the household.  Given these facts it is not reasonable to address them as though they are irresponsible children.  Speaking to a young person as though they are intelligent, capable people offers the best results.
In addition to the shift in responsibilities students face at home, they are part of the urban culture which stresses respect.  This is a unique concept for many adults in the teaching role.  We have come of age in a culture that teaches that one must earn respect through obedience and consistent good behavior.  This does not compute for most of the inner city youth of today.  Respect for them has to do with being seen and treated as a strong person and in many cases a person one would not want to disrespect for fear of being on their bad side.  For the remainder of this article, when addressing respect, what I will be referring to is speaking to students with kindness and in a calm tone  of voice.  It requires a generosity of spirit.  It requires taking our own ego out of the equation.
When addressing inappropriate behavior or classroom violations it is imperative that we listen…that we give positives even as we address the negatives of behavior.  For example, I had two students who were in a relationship and in the same class.  For them this meant an opportunity to sit close together, hug each other and lean on one another.  I was uncomfortable with this and asked them repeatedly to stop this behavior. One day after this had been going on for a while I lost it a bit and yelled at them both.
Once I calmed down and gave them time to calm down, all three of us had a conversation.  I learned that on that particular day the young lady had been in a fight with her mother and she was very upset.  He was trying to give her support.  This did not excuse all the other times they had displayed similar behavior, but I felt really bad to have compounded what was already a really bad day for her.  I requested that they cease physical displays of affection in the class and explained that it could look really bad to another adult if they came in my room and saw students being physically affectionate.  I also apologized for letting myself get upset yelling at them.  They understood and after that whenever I saw them being inappropriate I requested that they stop and they did immediately with no push back.  Notice that the behavior did not disappear, but the result was that they understood my concern and would respond without a discussion when I made a correction.  Students need to know why we want them to alter behavior.  Often all it takes is a straight conversation about expectations.
Correct in Private
The other element in the previous example that was extremely important was that I had a conversation with them in private.  This allowed them  to talk to me without needing to seem tough or "hard" (this means for the students that they do not care what others think or want).  They had the freedom to listen without having to keep up appearances for the other students in the class.  For urban youth it is often imperative that they seem hard.  To care is to show weakness and weaknesses are exploited by others in class.  They live in a state of hyper-alertness for things that might make them seem vulnerable.  This creates an atmosphere of anxiety in the class.   It is for this reason we must find ways to correct behavior without victimizing the students.
Apologize
Am I the wise sage I might appear to think I am as I write this? Nothing could be farther from the truth.  I make mistakes in dealing with my classes.  I lose it just like any other teacher.  I have my bad days.  When that happens I apologize to the class.  I tell them what I did that was not okay.  I apologize to my students, explain my actions and recommit to doing a better job in the future.  I model for them the way one can admit a fault without being weak.
Sense of Humor
I would encourage every teacher to develop a powerful sense of humor, otherwise you will spend a great deal of time being angry and feeling
taken advantage of.  Everyone has a unique ability to find humor in situations; don't be afraid to bring that to the classroom.  Find ways to laugh, but don't make fun.  Everyone enjoys having fun especially our students.
Share yourself
Take the time to be a human being with your students. Let them know a bit about you.  Don't spill your guts, they are not that interested, just share a bit. They are curious.  Never share things that make you uncomfortable as they will pick up on that.  The days of the sage old teacher who relates exclusively to his or her content are no more.  We must engage our students and one of the best ways to do that is to be human with them. Admit you weaknesses or faults; show them that on one is perfect.  That even with imperfections, we have a great deal to offer the world.
Expectations
Set high expectations for your students.  They know when you are making things too easy and they will capitalize on that.  Give students more than one chance to be successful.  If they are not effective in meeting the requirements take some time to address what is missing and allow them to try again.  Students often will not try if they think you don't care.  Use language about the process of whatever you are learning.  This gives you the freedom to look at effective and ineffective approaches to the learning.
As I once again approach a new school year I recommit myself to being the best teacher I can be and hope for more success this year than last. It is exciting to see how the students collaborate with their teacher as a space is being created to allow trust, creativity and risk taking to emerge.  Hopefully some of this information will be of use to teachers returning to the classroom or entering it for the first time.
Have a wonder filled school year!
About the author
Linn Conway begins the new school year as a college access coordinator At Furr High School in Houston ISD, TX. She is beginning her 22nd year in education. For the majority of her career she has taught Speech Communication and Theatre Arts in Houston. She spent 5 years teaching in private schools in the Middle East.