Learning is Complex – Standardized Tests Should Be, Too
By Leticia Aguirre
Tweet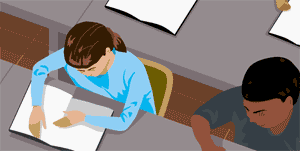 The STAAR test results came in. I gave my students one-by-one a "yes" or a "no" to let them know if they passed the test. As they all got their results I sat back and watched my student's facial expression of sadness or happiness. I could not help but notice one of my girls become excited as can be because she passed  her test. I was happy for her of course. Yet she never did any work all year, had low grades, was in my lowest reading group and was one of my most struggling students.
Then I saw one of my boys head down on his desk, sad and upset because he did not pass.This boy worked hard all year,did all his work, had excellent grades,always did his strategies and had shown great improvement since the beginning of the school year, but yet he did not pass the test.  I saw my six recent arrivals who have come a long way, barely learning the English language, take the test and fail. This brought down their morale, making them feel dumb. However, I reminded them that it was the language and not their lack of  knowledge because I know they are bright students. Despite their struggle to learn the English language their scores are weighed the same as a native English speaker. Is this fair? Experiencing this made me question standardized testing. Does standardized testing really give a true picture of what students know or learned in a school year?
The need and the demand for standardized testing came into effect in 2002 when No Child Left Behind Act was passed. This Act requires all fifty states to test every student in grades third through eighth grade, including high school every year. With NCLB, teachers accountability increased and tougher standards were implemented; however is this fair to all students? Standardized testing has many negatives. It may be beneficial in some cases, but it has and always will be criticized.
For one, it cannot measure learning to its fullest. These tests are given to measure students learning, but it is also used to sort and rank students, teachers, schools, and districts. They do not assess a student's deep thinking or creativity. Does it simply measure how well a student can answer a multiple choice question? Some students are great test takers in multiple choice tests but there are also those students who are not great test takers and do poorly on multiple choice tests, perhaps if they take a test with open-ended questions they would be successful. Every student is different in their learning and test taking. As Derrick Meador stated in his article "Pros and Cons of Standardized Testing," "There are many students who are smart and understand the content, but it doesn't showon the test." (teaching.about.comodassessaStandarized_Testing_.htm).
A student's score can vary depending on how they feel the day of the test, as stated in the article "What's Wrong With Standardized Testing." "An individual's score may vary significantly from day to day due to testing conditions or the test-takers mental or emotional state." (fairtest.org/facts/whatwrong.htm). Another factor that may cause students to score poorly on their test is the length of the test and the time in taking the test. Some students get bored after two hours(or less) of testing and do not try hard enough towards the end of the test.
  Another negative side to standardized testing is the anxiety that is created when teachers are pressured  to have high scores and students to pass the test. Jasmin Evans agrees in her article "Problems with Standardized Testing" stating, "That pressure to succeed creates a poor environment for learning-an environment of fear, rather than discovery." (www.education.com/reference/article/Ref_Test_Problem_Seven). Students feel great anxiety when they are told they have to pass a test in order to be promoted to the next grade level or that their electives will be taken away.
In Oklahoma, high school students have to take four tests and pass them in order to get their diploma and having a 4.0 GPA does not matter. As quoted in "What's Wrong with Standardized Testing" "Attaching high stakes to test results increases cheating and other efforts to boost scores without improving educational quality" (fairtest.org/facts/whatwron.htm). Due to this anxiety, students may become forgetful about subject matter they learned, which results in poor performance.As for teachers, the pressure and anxiety is also overwhelming. Having low scores can cause a teacher to lose her job or sometimes schools can be forced to close or be taken over by the state. This causes some teachers to quit the teaching profession. Derrick Meador quoted in the article "Pros and Cons of Standardized Testing," "…excellent teachers quit the profession everyday because of how much stress is on them to prepare students to perform on standardized tests."
(teaching.about.com/od/assess/a/Standarized_Testing_.htm).
Learning is complex and tests should be the same. A test is reliable if a student takes the same test again, and scores the same or better than the first time. Standardized testing only evaluates a students individual performance instead of their growth throughout the school year. Standardized testing can be a friend or it can be an enemy to many educators, students, and parents. Everyone will always have an opinion about these tests whether it be negative or positive. With all said the question remains, does standardized testing  measure with one hundred percent accuracy the true knowledge of our students? I do not believe it does.