Tips for Writing Teacher Comments on Report Cards
By Leah Davies, M.Ed.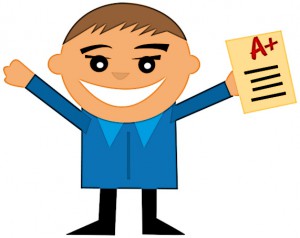 Report cards provide parents with essential information concerning their child's progress in school. Various formats are used including letter grades, numbers, checklists and teacher comments that indicate how a child is performing in different areas. For each report card period, teachers usually write descriptive comments for every student. These written remarks elaborate on the student's strengths, and frequently offer ways the child could improve his or her academic work and/or classroom behavior.
Writing unique and meaningful report card comments takes effort. If only negative statements are written, the parent may feel overwhelmed and thus be unable to help their child. Examples of definitive words that should be avoided are:
* the child will never;
* the child will not;
* the child cannot; and
* the child will always.
Parents are more willing to cooperate if a comment concerning a child's weakness follows a positive one. So it is more productive to state a student's strength first, then follow it with your concern – but make sure that is written in a constructive way. For example, you could write, "Bill excels in science," and then add, "He needs more opportunities to develop his friendship skills." Or, write something like, "Leslie is friendly and well-liked," and add, "She would benefit from practicing her reading fluency and comprehension skills." Teachers need to choose their words carefully since the report card is part of the child's permanent record.
Examples of Positive Adjectives that Describe Children
Considerate
Well-mannered
Responsible
Fair
Friendly
Brave
Thoughtful
Thorough
Self-confident
Intelligent
Cooperative
Helpful
Honest
Respectful
Efficient
Talented
Self-disciplined
Sincere
Responsible Hard-working
Dependable
Creative
Generous
Kindhearted
Mature
Curious
Artistic
Enthusiastic
Here's a phrase: A positive role model for classmates
Since your comments need to be as specific as possible, avoid using ambiguous words alone such as wonderful, good or great.
Examples of Statements Concerning a Student's Strengths [next page]