Teaching the Value of Diversity
By Leah Davies, M.Ed.
Tweet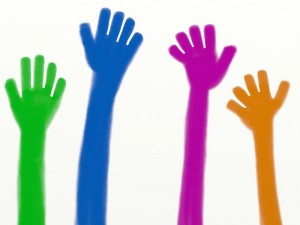 Children's identity and self-respect are related to how others treat them, and ultimately to their future success. Therefore, school personnel need to promote a safe, humane environment where inclusiveness, justice and an appreciation of individual differences are evident. When staff are respectful toward students no matter what their gender, social class, race, nationality, religion, disability or cultural background, children will follow their example.
How can administrators and staff help children value diversity?
Hold anti-bias, diversity training workshops or support groups for all personnel. Include sensitivity awareness of racial and cultural differences present in your school. Invite community members representing various groups to speak about their customs and/or concerns. Require staff to speak and act in an unbiased manner.
Develop a clear "School Standard" that staff can support and enforce. For example:
Every child is unique and has value.
Every child will be treated with respect and caring.
Every child can learn.
Everyone in our school has the responsibility to stand against prejudice and injustice.
Our school is a peaceful place where bigotry is not tolerated.
Decide which age-appropriate consequences will result from various student infractions. Depending on the student's age, some suggestions are:
Write a paper on another culture.
Meet after school with a staff member and a diverse group of students to discuss differences and commonalities, and/or to work on a project together such as beautification of the school.
Use punishment such as detention or suspension.
Make contact with a parent, school counselor, principal, or law enforcement officer.[ad#bigbox
Inform the student body that harassment of any kind against other students or staff will be dealt with swiftly and firmly. Follow through with action.
Encourage peaceful student interaction and cooperation. Institute a peer mediation program that trains children to mediate conflict among their peers.
Provide a safe, consistent classroom atmosphere where children's strengths are accentuated and their differences are respected. Establish a climate where children feel free to share their thoughts and feelings. Teach each child to stand up for him/herself, and to uphold the rights of every other child.
Use multiethnic, culturally-sensitive materials, curricula and textbooks whenever possible. If biased materials such as old history books must be used, ask the children in what ways they present a prejudiced view. Include equitable concepts as an integral part of daily classroom life.
Have the children participate in activities that uncover discrimination, examine diverse viewpoints, increase sensitivity toward others, and improve their thinking skills. The following are a few examples.
Ask all the children with January to June birthdays to sit on one side of the room, and the ones with July to December birthdays to sit on the other side. (Or, divide by gender, eye color, height, etc.) For a day, give special treatment to one group of children. Process the experience at the end of the day by having the children from each group share their thoughts and feelings. List their reactions on the board.
Ask questions such as: "What do you know about African Americans, Native Americans, Asian Americans, European Americans, Mexican American or other peoples?" List the ideas and discuss. Then ask the students to name things all children have in common. Some ideas are:

Everyone feels sad, angry, jealous, lonely, embarrassed, scared at times.
Everyone wants to have a good life.
Everyone needs healthy food to eat and clean water to drink.
Everyone wants love and respect.
Put the list on a poster to display in the room.

Have the students close their eyes and picture a "bum." Then have them open their eyes and write down a description of the person. Ask the children to do the same thing for a nurse, doctor, rock star, scientist, etc. Discuss their stereotypes.[continued on next page]