Getting to Know Each Other Activities, Part 3
By Leah Davies, M.Ed.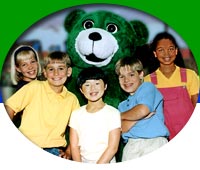 This is the third part of a list of activities that are enjoyable and foster self-understanding and friendships among children (see end of article for links to prior articles). These activities help children feel bonded to each other and to their teacher or group leader. When students feel accepted and have a sense of belonging, their attitude toward each other and learning is enhanced. These activities are most effective when appropriately adapted to specific age levels and group sizes.
1. Make a large, blank puzzle out of poster board. Give a puzzle piece to each student and have them write their first name in the middle. Have them draw items that represent themselves or decorate their piece with a variety of materials. When they are finished, put them together to make a bulletin board entitled, "Each of us is important!"
A variation is to make a classroom quilt. Cut pieces of light colored construction paper into 8″ x 8″ squares. Show the children how to draw a diamond in the middle of the square leaving four triangles, one in each corner. Have them write adjectives that describe themselves in the four triangles. Divide the children into pairs or groups of five and have them discuss what they wrote. Then ask students to glue their picture in the center of their square and attach the quilt pieces to a bulletin board.
2. Ask the children to brainstorm negative feelings they or their friends have had, such as sad, angry, lonely, embarrassed, afraid, frustrated, jealous, disorganized, lonely, or hurt. You may want to write them on the board. Give the children a large index card and ask them to write down one of the words that describes an emotion they have had.
Sit in a circle on the floor and place the mixed cards, face down, in the center. Pick up a card, read the word and ask, "What could make you feel (insert the feeling word)?" Accept all answers by restating what the student said. Then ask, "If you were feeling (name the emotion), what could you do to feel better?"
Encourage the children to name positive coping skills. For the emotion, anger, a child may answer, "Hit him!" In that case you may want to ask the children if hitting is a good idea and discuss more positive methods for handling anger. If the card pulled is a duplicate, pick another one to discuss.
Variations are to have the emotions printed on cards ahead of time, to place the cards face up instead of face down, and/or to have the children take turns choosing a feeling card and answering the questions.
3. Define "birth order" in a family. Ask the students to divide themselves into four groups:
The eldest in the family
The youngest in the family
Any place in the middle
An only child
Then ask a child to volunteer to be the leader from each group. The leader's role is to:
get everyone involved
ask questions
write down the children's answers
report back to the class or group
Questions to ask:
"What do you like about your birth order?"
"What don't you like about your birth order?"
"How are we alike as a group?"