March Wind Science – Karen's PreK Page
By Karen Cox
March activities for experimenting with wind and air
*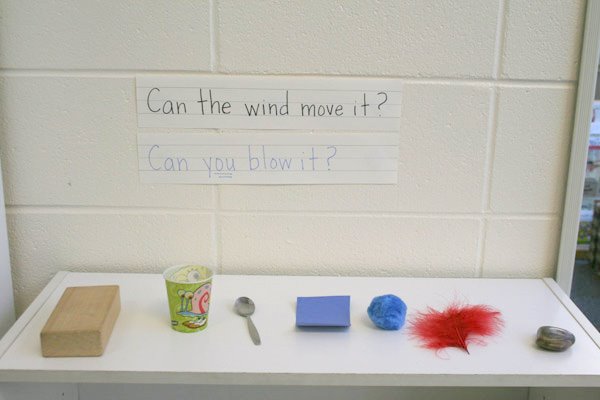 Can You Blow It?
Place a variety of objects in the science center: some that will move when blown and some that will not move. Examples: wooden block, paper cup, metal spoon, piece of construction paper, cotton ball, feather, rock. Make a sign for the center that says: "Can the wind move it? Can you blow it?" When children go to the science center, they will make a prediction and test each object to see which will move and which will not move when they blow on the object. Children blow to simulate the wind.
*
Observing the Flag
Take the children outside to the school's flagpole every day for a week (or a month). Make a class chart to record whether or not the wind blew the flag on each day. To make the chart, draw a flagpole on each square of a calendar. If the wind is blowing the flag, draw a flag on the flagpole or place a flag sticker on the flagpole. If the wind is not blowing the flag, leave the flag off. At the end of the recording period (week or month), count how many days the flag was blown by the wind. It would also be interesting to compare another month to the month of March.
*
How Far Can You Blow a Feather?
Place a long piece of masking tape on the floor, and mark the starting point. Give each child a turn to blow a feather and mark the distance they blew it using one strong breath. Children will place the feather at the starting point you have marked, get low, close to the feather, and blow it as far as they can using one breath, along the masking tape. Have the children mark the spot where the feather stopped on the tape with a marker or crayon. You can use your feet or Unifix cubes to measure the distance.
*
Keep It Up
The object of this game is to continue to blow a feather and keep the feather from touching the ground as long as you can. The children cannot touch the feather with their body, they may only blow it to keep it in the air. Time the children to see how long they can keep the feather in the air or set a goal of 30 seconds or longer, depending on the capabilities of the children.
*
Windy Books:
The Wind Blew, by Pat Hutchins
Like a Windy Day, by Frank Asch
Millicent and the Wind, by Robert Munsch