Spring Plant Theme Activities – Karen's PreK Page
By Karen Cox
Click images for larger view.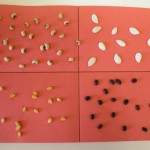 1. Seed Sorting
Draw dividing lines on a piece of construction paper and provide children with a mixture of four types of seeds or dried beans.
Children will sort the seeds and glue them to the paper in the four sections.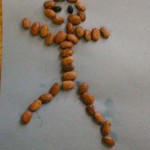 2. Seed Picture
Give children a piece of construction paper (use a half piece). Have them draw a simple picture with a pencil (a stick figure, flower, sun, or anything they choose).
The children will trace the pencil drawing with glue and glue the seeds on the make the picture.
Also:
3. Flower Letter Game
Cut out 26 flower shapes and write a letter of the alphabet on each one, A-Z.
Attach a magnet or velcro to the back of each to be used on a flannel board or magnetic board.
To begin, place about four flowers on the board. Have the children name each letter.
Turn the board around where the children cannot see it and remove one letter.
Show the children the board again, and ask them to guess which letter is missing.
If the group does well with the activity, try adding five letters at a time. Change out the letters after a few rounds of play to keep the game interesting.
For more pre-k activities, visit Karen's www.prekinders.com site!
Share ideas with other prek teachers on the Preschool Teachers Chatboard