Snow Theme Activities by Karen Cox
By Karen Cox
From the archives
Snowflake Art
Place a round paper doily on a paper plate. Use a sponge to sponge-paint over the doily with blue paint. After covering the whole plate, remove the doily to see the snowflake design underneath.
Snowman Snack
Place two English muffin halves on a plate, one above the other, like a snowman. Spread cream cheese or white cake icing on the muffins. Add M&M candies or raisins for the eyes and mouth. Add a baby carrot for the nose. Add a piece of a fruit leather strip (fruit roll-up) for the scarf.
*

Snowman Sculpture
Use white play dough or clay to create a snowman. Have children form two round balls of play dough and stack them. Decorate the snowman with various items, such as beads, wiggle eyes, or small buttons for the eyes and mouth, peg or pipe cleaner for the nose, hat from a small doll, scarf (cut out of felt), pieces of pipe cleaners for arms, etc.
Snowball Sizes
Purchase white craft pom poms in three different sizes (these are available at any craft store). Obtain three different sized jars or boxes. Place all of the white pom poms (snowballs) in one container and have the children sort them by size in the jars/boxes.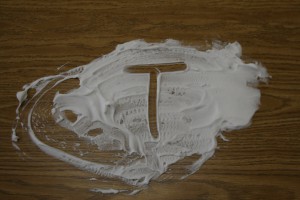 Writing in the "Snow"
Have children practice writing their name or letters using their finger in shaving cream "snow".
Click here to hop over to the Preschool Teachers Chatboard!