Sand Art Seahorses – Without the Mess!
By Karen Cox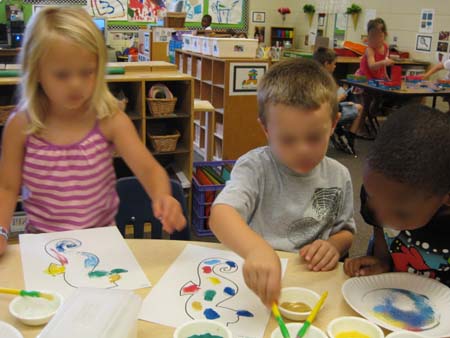 Sand art is a fun art medium for Pre-K children. Here's a simple way to do it with less mess.
I pour a small amount of colored sand into small bowls. In another small, shallow bowl, I pour some white school glue.
I have the children "paint" the glue onto a small area of the paper with a paintbrush, and use their fingertips to pinch a small amount of sand, which they sprinkle onto the glue. Keep a paper plate or a tray within reach, and have children shake off the excess sand into the tray.
They continue the process with other colors. It's a good idea to have a container of water handy (I use a shoe box size plastic tub) to place the brushes in as soon as the children are finished. That way, the brushes can soak and the glue won't dry in the bristles. The school glue washes out easily.
In May, when we do our Ocean theme, I give the children a simple outline of a seahorse for their sand art. This goes well with the story, Mr. Seashorse, by Eric Carle because of the colorful seahorse in the book.
I have also done sand art in the fall on a simple leaf outline, and of course, sand art is a great activity any time of year. It's also a good idea to have children draw an outline with a bold black marker and fill in their own art with the sand.
Pinching the sand and transferring it to the paper is a good fine motor exercise as well.